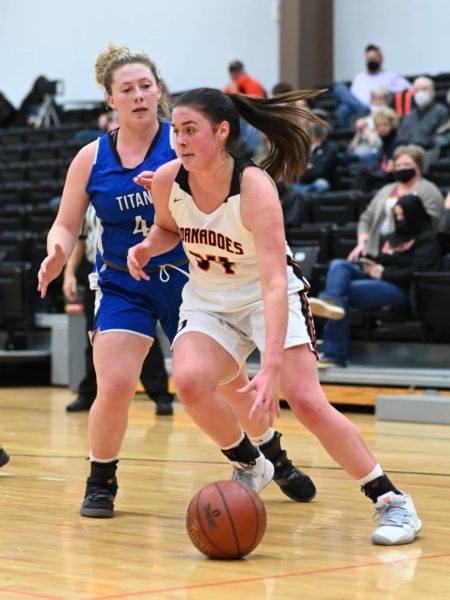 Oakes, ND (NewsDakota.com) – The Oakes Tornadoes girl's basketball team jumped out to an early lead and went on cruise control to close out the Griggs-Midkota Titans 66-40 Monday night.  The Tornadoes led 23-11 after the first quarter, and things would not get any closer.
The Tornado starters played most of the minutes through the first three quarters, but younger players got a chance to play the entire fourth quarter as they entered with a 65-29 lead.  With the game essentially over and a running clock through the entire quarter, the Titans actually outscored the Tornadoes 11-1 in the fourth, although the Titans did leave in players who had played throughout the entire game.
Senior Sadie Hansen led all scorers with 29 points (in three quarters) for the Tornadoes, including four three-pointers, while sophomore Laikyn Roney scored 19 of her own.  Emma Muggli and Abby Cox each added nine points for the Tornadoes, who only had 5 players score.
Sophomore Asia Becherl led the Titans with 17 points, including nine in the third quarter.  Junior Josie Johnson added nine points, six of which came in the fourth quarter.  The Tornadoes move to 6-0 on the season, and they will next play Thursday at Sargent County.  The Titans fall to 2-7 on the season.