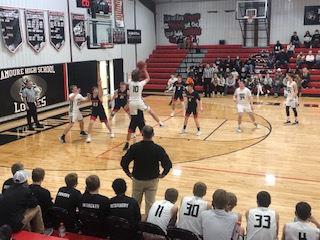 LAMOURE, N.D. (NewsDakota.com) – Colton Ness only scored in two quarters but still managed to lead LaMoure/Litchville-Marion to a 64-41 win over Finley-Sharon/Hope-Page Tuesday night in LaMoure.
Ness scored nine points in the second quarter and seven in the fourth for a game high 16 points. He added six rebounds and three assists. Corbin Potts scored 11 of his 14 points in the first half. He added five rebounds and three assists. Also in double figures was Landon Piehl who had 14 points and had three of the Loboes five three-pointers.
Rebounding was nearly even. The Loboes had 25 and the Spartans had 24. The difference in the game was 25 turnovers by Finley-Sharon/Hope-Page. LaMoure/Litchville-Marion had only nine turnovers in the game.
Landon Koenig led the Spartans with 15 points and nine rebounds.
The Loboes improve to 7-2 on the season and will travel to Enderlin for the final game of the BCT Thursday night. Finley-Sharon/Hope-Page is now 3-5 and will travel to Barnes County North on Thursday.
Elsewhere in the BCT on Tuesday:
Enderlin 76, White Shield 53
Wyndmere-Lidgerwood 47, Maple Valley 35
Sargent County 65, Barnes County North 51
Thursday's Games
LaMoure/Litwchvile-Marion @ Enderlin
Finley-Sharon/Hope-Page @ Barnes County North (Q101.1FM 7:15pm Pregame)
Warwick @ Maple Valley
Sargent County @ Wyndmere-Lidgerwood