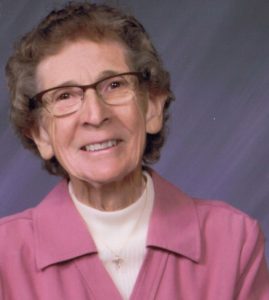 Shirley Norman, age 84, of Valley City, died Friday, January 8, 2021 at the Sheyenne Care Center in Valley City.  A private family service will be held on Wednesday, January 13th at the Lerud Mathias Funeral Home in Valley City.  Due to COVID 19, the service will be livestreamed at www.lerudschuldt.com starting at 2:00 PM.  Interment will be in Memory Gardens Cemetery near Valley City in the spring.
Shirley Ann Bury, the daughter of Perry and Ruth (Herr) Bury, was born March 10, 1936 in Bristol, SD.  She was the oldest of three children.  She grew up and was educated in Webster, SD and graduated from Webster High School in 1954.  After her graduation, she worked as a Nurses Aid at Webster Memorial Hospital for a year.  She then entered St. Mary's School of Practical Nursing in Pierre, SD.  Shirley graduated as a LPN in 1956.  Shirley then went to work in Maddock, ND at the Memorial Hospital where she met her future husband, Okey Norman.  The couple was married on November 15, 1957 at St. John's Lutheran Church in Webster, SD.  They lived and worked for a short time in Maddock, ND and then Washington State before returning to Webster, SD where she worked at Bethesda Nursing Home.  In 1977, they moved to Valley City, ND where she worked 20 years at the Sheyenne Care Center.  After her retirement, Shirley did home care nursing and was an active member of Faith Lutheran Church.  Shirley enjoyed spending time with her family, her grandchildren, reading, bird watching and painting with oil and water-based colors.  She was an avid walker that loved a good long walk.
Shirley is survived by her children, Beverly (Samuel) Nannenga, Valley City, ND, Karen (Terry) Duffy, Oriska, ND and Carol (Tim) Cruff, Fargo, ND; 3 Grandchildren, Laura (Aaron) Hill, Fargo, ND, Cody Duffy, Valley City, ND and Jesse (Ashley) Duffy, Grandin, ND and 2 great grandchildren Ella and Callie Duffy, Grandin; one sister, Mary (Roger) Schmig, Webster, SD; and numerous nieces and nephews.
Shirley was preceded in death by her parents, husband Okey and a brother Donald.