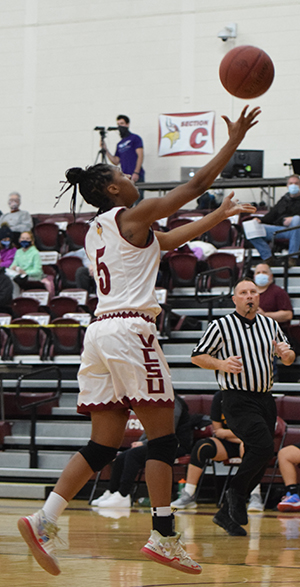 VALLEY CITY, N.D. (vcsuvikings.com) – The Valley City State women's basketball team had all ten Vikings score Monday in its 87-40 victory over Oak Hills Christian College.
The Vikings were paced by a game and career high 24 points from Taryn Dieterle. Niea Ulmer added a double-double, scoring 14 points and pulling down a career-high 20 rebounds, including nine offensive boards. Adriana Torres added 16 points, while Andranae Powns scored 12. Alexis Bentz dished out a team-high five assits for the Vikings. The 20 rebounds for Ulmer are the second most in a single game in school history. Vicki Bassingwaite pulled down 23 boards in 1976.
Valley City State improves to 4-7 overall this season and currently sits at 2-3 in the conference. Oak Hills falls to 2-5 overall.
Leading 11-8 early on, the Vikings took a 14-3 run over the final four minutes of the first quarter, including nine points from Dieterle, to hold a 25-11 advantage. Valley City State continued to build upon its lead throughout the game en route to the 47-point home victory.
Valley City State shot 46 percent from the field (36-78), 25 percent on three-pointers (7-28), and 57 percent on free throws (8-14). Oak Hills shot 33 percent from the field (15-46), 50 percent on three-pointers (4-8), and 50 percent from the free throw line (6-12).
Valley City State led the rebounding effort 49-27, including 21 on the offensive glass. The Vikings tallied 15 steals as a team and scored 56 points in the paint. Valley City State recorded 24 assists and just 10 turnovers. Oak Hills had just three assists and 25 turnovers.
UP NEXT: Valley City State is on the road to face Mayville State on Friday night. Women tip at 5:30 p.m. with the men to follow at 7:30 p.m.