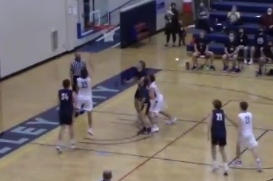 VALLEY CITY, N.D. (NewsDakota.com) – Fargo North used a 14-0 run to turn a five point deficit into a nine point lead midway through the second half on the way to a 74-60 come-from-behind win over Valley City Thursday night in boys basketball at the Hi-Liner Activity Center.
North led by as much as 11 in the first half at 20-9 after Isaac Cody's three pointer with 11:09 remaining in the half. Cody was fouled in the act of shooting but missed the free throw to keep it at 11.
Valley City would use a 15-4 run to tie the game at 24 capped off by two free throws by Alex Thornton with 6:09 remaining in the first half.
North would score the next eight points to go up 32-24 with 3:27 to go in the half. But the Hi-Liners would stay close and close out the half on a 10-5 run to make it 37-34 North at the break. Included in that run was a 9-0 spurt that had a three-pointer by Robert Fisher. Then he followed a missed three with a put back layup and Peyton Zaun hit two free throws to make it 33-32. But Aiden Carlson's bucket gave the Spartans the lead back at 34-33.
The second half started with Alex Thornton scoring the first eight points for Valley City. A three pointer tied it at 37 2:15 into the half. He would hit another three 36 seconds later to make it 40-37 Valley City. The Thornton run would end with a scoop shot in the lane to make it 42-37 Valley City with 14:35 to go.
Aiden Jacobson's runner in the lane with 12:35 to go made it 47-42. That would be as big a lead the Hi-Liners would get. Fargo North went on a 18-2 run to take a 60-49 lead. Luke Loberg scored inside to tie the game at 47 with 11:35 to go then they took the lead for good on Alijah Armtrong's bucket inside with 10:54 remaining.
That lead would get to be as big as 16 when Luke Loberg had a three-point play to make it 74-58 with 2:22 to play.
Loberg led the Spartans with 21 points and six rebounds. Carter Zeller scopre 13 points off the bench and all in the secnd half. Jalen May ahd 12 points and Aiden Carlson chipped in 10.
Peyton Zaun scoreed 18 of his game high 22 in the first half. He also had a team high four assists, three blocks and two steals. Alex Thornton finished with 12 points. Andrew Berntson added eight.
Valley City falls to 2-8 in the Eastern Dakota Conference and 2-9 overall. Fargo North improves to 4-5 overall and in the conference.
The Hi-Liners travel to Devils Lake to play the Firebirds on Friday. Then to Fargo North for a rematch with the Spartans next Tuesday.