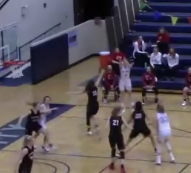 VALLEY CITY, N.D. (NewsDakota.com) – Devils Lake used a 15-0 run as part of a 15-5 start on the way to a 67-50 win over Valley City in High School Basketball Friday night at the Hi-Liner Activity Center.
Valley City got a 3-pointer and a bucket inside by Samantha Hatcher to take a 5-0 lead 90 seconds into the game. But Malayna Barendt would start the run that gave the Firebirds the lead. Jailyn Martinson would end the run with a bucket inside with 13:00 to go in the first half. That lead would grow to 14 at 22-8 after a Martinson bucket inside with 10:29 remaining.
The lead would stay between seven and 13 points the rest if the half with Devils Lake leading 38-27 at the break.
Valley City would start the second half on a 8-3 run to cut the lead to six at 41-35 following Hatcher's three-pointer with 14:35 to go in the half.
But that would be as close as Valley City would get. Devils Lake went on a 9-2 run to take a 50-37 lead following a three-pointer by Martinson with 10:50 remaining in the game.
Valley City would only get to with eight points on a couple of occasions in the second half the last time would be at 54-46 with 5:14 remaining. Devils Lake would end the game on a 13-4 run for the final margin 67-50.
Martinson led the Firebirds with a game high 28 points. Ramsey Brown scored 16 points. Rachel Dahlen had a game high nine rebounds and Laila Gourd added six boards.
Peyton Pederson and Samantha Hatcher scored 12 points each. Pederson had a team high seven rebounds. Brooke Eggermont had 11 points. Jadyn Dieterle had nine points and four assists.
The game counted for two points in the standings so Devils Lake improves to 9-0 and takes over first place in the  Eastern Dakota Conference and are 8-0 overall. Valley City falls to 2-9 in the conference and 3-7 overall.
Saturday, the Hi-Liners travel to Lisbon for a date with the 9-3 Broncos.