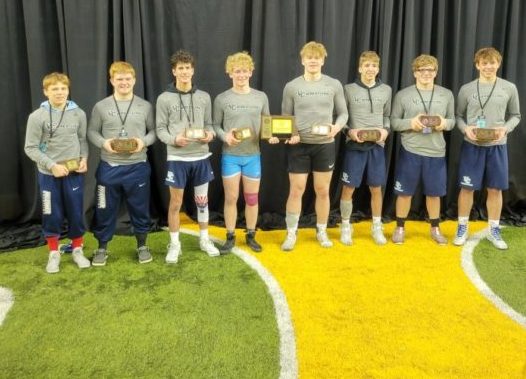 FARGO, N.D. (NewsDakota.com) –  From the time he lost a heartbreaking 3-2 decision in the state title match in 2020, Koye Grebel had one thing in mind, get back to the state title match and win. Mission accomplished on Friday. The sophomore defeated William Sprenger of Devils Lake by tech fall at 5:20 (20-4) to  win the 106 pound weight class at the state wrestling tournament.
Grebel, now 28-0,  was joined by seven teammates that placed at state, the second most in school history. Only last year's ten was better. Grebel would defeated Ben DeForest 12-2 in the semifinals.
As a team, the Hi-Liners scored the highest point total in a state tournament in school history by scoring 198.5. Bismarck won another team title, their fourth in a row and seven in the last eight years, with 313.5. Bismarck Century was second with 210.
Other place winners for Valley City. Logan Novara lost to Christian Tanefeu 10-3 in the championship at 113. Novara had beaten Jesse Thompson of Bismarck Legacy in the semifinals by fall at 3:54.
Ethan Miller lost to Aden Braun of Jamestown in the semifinals 6-1. But he came back to beat Wyatt Hansen of Williston by medical forfeit in the wrestle backs and Danny Monatukwa of Fargo North in the third place match by fall at :48.
After losing in the quarterfinals on Thursday,Ezra Hanse came back and defeated Ryan Barth of Fargo Davies 9-7 in the fourth round of the wrestle backs. He then lost to Braydon Williams of Grand Forks Central 7-4. He defeated James Charboneau 4-3 to finish seventh.
Broden Muske bounced back big after losing in the quarterfinals on Thursday. He picked up four wins Friday to take third. He defeated Landon Allex 9-1 in the fourth round of wrestle backs. He then defeated Jaxyn Richter of St. Mary's by fall at 2:33 in round five. He pinned Dany Tanefeu from Century in 4:09 to reach the third place match.
Jonathan Redfearn picked up two wins in the wrestle backs, 10-3 over Tanner Thiel of Wahpeton and 9-5 over Brayden Gerhardt of Devils Lake before losing to Austin Bicker of Grand Forks Central by fall at 5:00. Redfearn then dropped a 7-4 decision to Will Post in the seventh place match to finish eighth.
At 195, Jonah Schuldheisz lost to Cade Garcia of Centiry 2-0 in the semifinals. He would bounce back and beat Trenton Radenz of St. Mary's by fall at 2:39 before falling to Christian Minton of Williston by fall at 3:39 to take fourth.
Carson McGough would lose in the semifinals to a Tanner Jarrett of Dickinson by fall at 2:00. But would come back and beat Hunter Harvey of Century 5-2 and Nick Windsor of St. Mary's 6-0 to take third.
Five other Hi-Liners reached day two of the state tournament but lost their only matches on Friday. Koltyn Grebel lost to Kade Marker of Minot by fall at 4:00 in the fourth round of the wrestle backs. Tucker Johnson lost to Eloy Flores of Sheyenne 8-3 in the fourth round of wrestle backs at 120. Isaiah Schuldheisz lost to Paden Combs of Minot 1-0 in the fourth round of wrestle backs. Tyson Hovland fell to William Ward of Fargo North 7-0 in the wrestle backs. Devyn Thornton lost to Jacob Burckhard of Century by fall at 2:21.
The Hi-Liners will now turn their attention to the dual state tournament which starts today at 10:00am. Valley City will open up with Bismarck St. Mary's. The Hi-Liners are 21-2 and have won four straight. The Saints are 7-5 and have won three straight. Coverage on 1490AM/96.3 FM KOVC begins at 9:45 live from the Fargodome.