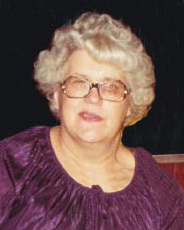 Ina Marjorie Oppegard, 93, Dazey, North Dakota, left this life and went to her heavenly home on February 19, 2021.  She passed away at her home.
Ina Marjorie (Faust) Oppegard was born December 17, 1927 on the family farm near Moffit, North Dakota.  She grew up in the Moffit area.  Ina graduated from high school and worked at the Bismarck Tribune before attending Valley City Normal School, Valley City, ND, studying journalism.  While at school she worked for the Valley City Times Record.
Ina was united in marriage to Randy Oppegard on March 21, 1948 in Moffit.  They made their home in Dazey.  She was a very loving and dedicated wife, mother, grandmother, and great-grandmother. Ina worked part-time at the Dazey Post Office as a clerk during the time Randy was the postmaster.  Her hobbies included writing poems and short storiesand gardening.  She enjoyed watching her favorite teams, the Minnesota Twins and Vikings.
Ina was a member of Our Saviour's Lutheran Church, Dazey, where she had been active in choir, Ladies Aid and Sunday school.  Ina was also a member of the American Legion Auxiliary.
She is survived by her four children, Keith (Janice) Oppegard, Janell (Dan Viau) Oppegard, Esther (Terry Stevahn) Oppegard, and Rod, her faithful caregiver for 20 years; 15 grandchildren and 20 great grandchildren.
In heaven she will join her husband Randy, who passed away January 30, 2000; an infant son; twograndsons; her parents and seven siblings.
Visitation will be 5-7 pm Thursday with a prayer service at 7 pm at Oliver-Nathan Funeral Chapel, Valley City.  A memorial service will be 1 pm Saturday, February 27, at Our Saviour's Lutheran Church, Dazey. Web cast for prayer service is available at https://vimeo.com/515489693; web cast for memorial service is available at https://vimeo.com/515492694
Funeral arrangements have been entrusted to the care of the Oliver-Nathan Funeral Chapel.  An online guestbook is available at www.oliver-nathanchapel.com