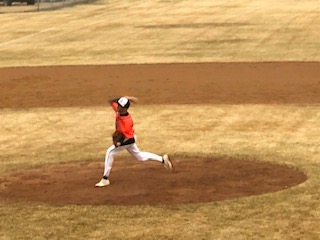 ENDERLIN, N.D. (NewsDakota.com) – Enderin/Maple Valley was able to only put two balls in play against Brady McKenna, a single in the third and a ground out to end the third inning. Other than that, the Falcons could not do much against the senior right hander in a 16-0 five inning win for Oakes in high school baseball at Hendrickson Field in Enderlin. This was the season opener for both teams.
McKenna pitched four innings and struck out 12 along with three walks. The Falcons could not get anyone past second base. Jaidy Gebhardt pitched a perfect fifth with three strike outs for Oakes.
The Tornadoes sent 11 batters to the plate and scored five runs in the first inning. Connor Schall drove in the first run of the game with an rbi double to right. Bryley Haberman had an rbi single in the inning. Fletcher Willprecht drove in a run with a bases loaded walk and two runs scored on wild pitches.
The Tornadoes would sent 14 batters to the plate in the second and scored eight runs. The first seven batters reached base to start the inning. After two singles and a hit batter, Bryley Haberman would drive in Howie Neustel and Jaidy Gebhardt to make it 7-0 Oakes. Michael Iverson walked to load the bases and Brady McKenna helped his cause with an rbi single to make it 8-0. Willprecht had his second consecutive rbi  on a bases laoded walk to make it 9-0. Schall would drive in Iverson with a ground out to make it 10-0. Neustel, who started the inning with a single, doubled in courtesy runner Brogan Roney and Willprecht. Haberman would cap the scoring with an rbi single to make 13-0 Oakes.
Oakes would add two more in the third on a wild pitch and Schall's rbi triple. Oakes' final  run came in on a double play. With runners at the corners, McKenna hit a ground ball to shortstop Carson Batholomay who threw McKenna out at first. Haberman, who was at third scored and Iverson who was at first tried to get to third but an strong accurate throw by Andrew Mickelson to third baseman Brenan Bartholomay got  Iverson to end the inning.
McKenna did the rest on the mound as he struck out the side in the first, second, and fourth.
Schall was 3 for 5 with a run and three rbi. Neustal was 2 for 4 with three runs scored and two rbi. Gebhardt had two hits and a run. Haberman was 3 for 4 with three runs scored and four rbi. McKenna and Willprecht each had a hit, scored twice and drove in two.
Oakes will next travel to Casselton to play Central Cass next Tuesday. Enderlin/Maple Valley will be at Central Cass on Friday.