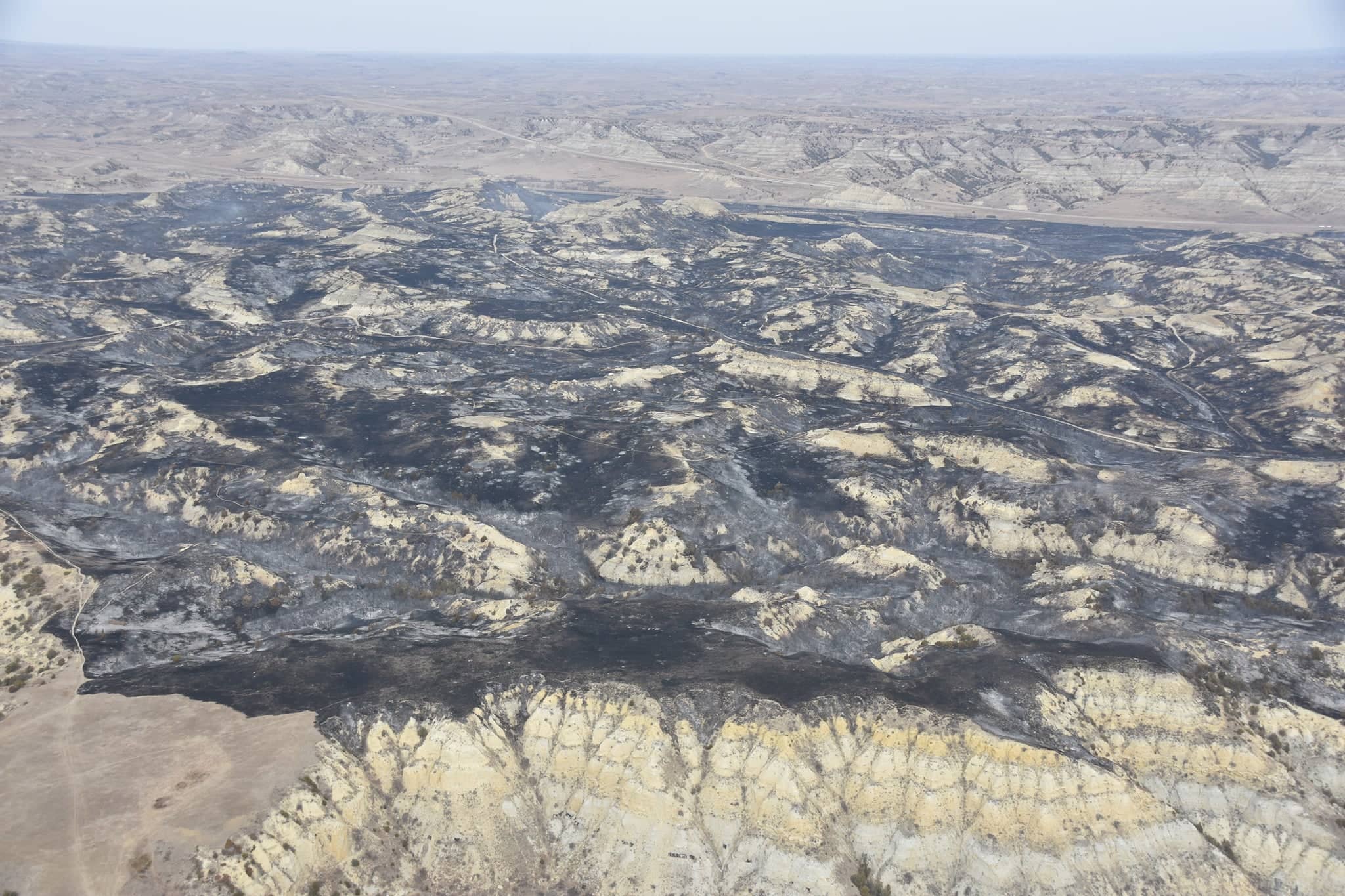 Photo: North Dakota Wing, Civil Air Patrol
BILLINGS COUNTY, N.D. (ND Forest Service) – As of 9:30 AM MDT today, firefighters are reporting 50% containment and an estimated 5000 acres burned for the Horse Pasture Fire in the North Unit of Theodore Roosevelt National Park (TRNP) and the McKenzie District of the Little Missouri National Grassland.
The cause of the fire is still under investigation.
Lighter winds yesterday have helped responders as they continue to contain the wildland fire. At this time, no structure damage has been reported, but the CCC campground and other infrastructure in the park are still at risk, as well as some private residences on the north end of the fire.
The USDA Forest Service maintains closures for the areas affected by the Horse pasture wildfire, as well as the area in the South Unit of TRNP impacted by the wildfire last week. These orders are to protect public health and safety, and are in effect until further notice.
The USDA Forest Service issued an Emergency Order for Fire and Shooting Restrictions on all National Forest System lands within Billings, Golden Valley, Grant, McKenzie, Sioux, Slope, Ransom and Richland counties, North Dakota and Corson, Perkins, and Ziebach Counties, South Dakota until further notice. Building, maintaining, attending, or using a fire or campfire, smoking, and discharging a firearm, air rifle, or gas gun are prohibited with some exceptions.
All residents of North Dakota are asked do their part in preventing wildfires. Be aware of burn bans in effect in your county and your local fire danger by checking out https://ndresponse.gov/burn-ban-restrictions-fire-danger-maps. Never burn when a red flag warning is in effect, and be aware of the specifics of your county's burn ban. Keep your vehicle off of dry grass, and ensure no chains are dragging. Properly check and maintain your equipment when working outside, and always have a fire extinguisher and shovel on hand. Educate your children on the importance of fire prevention and safety.
We all can do our part to prevent wildfires.