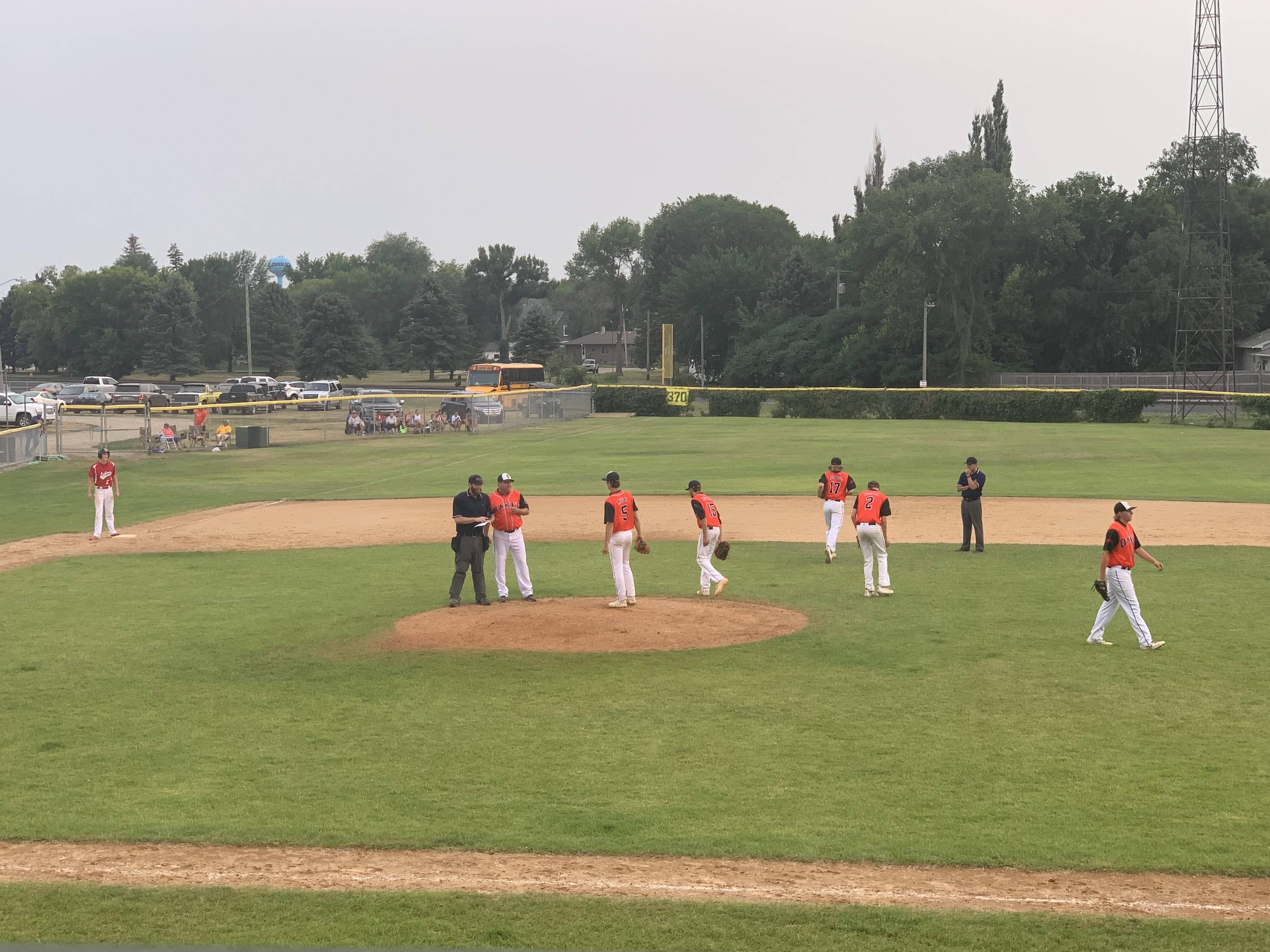 ENDERLIN, N.D. (NewsDakota.com) –
GAME 1
Wishek-10
Ellendale- 9
In the day's first game we saw a little bit of everything. Wishek had their offense going constantly scoring as the game went on. After trailing 4 to nothing in the 4th inning, Ellendale rallied to tie the game up at 4. Trailing 7 to 5 in the top of the 7th inning, Ellendale got the bases loaded for Hunter Thorpe. The tall right-handed hitter stepped up and hit a grand slam to the deepest part of the ballpark here in Enderlin to put his team ahead 9 to 7. Wishek would not get down on themselves as in the bottom of the 7th inning they would get a couple of walks and clutch base hits, most notably from Seth Wolf to come back and get the 10-9 walk-off victory. Wishek now moves on to play tomorrow in the 11 a.m. game and they will take on Lisbon.
GAME 2
Enderlin- 3
Wahpeton- 14
In what started out as a promising game for the host team ended in a shortened defeat. The bats for Enderlin came out strong as they scored 3 runs in the top of the first inning thanks to hits from Kashdon Wadeson and DH Andrew Mickelson. However, that would be the only inning that Wahpeton pitcher Jakobe Anderson would struggle. He went 5 innings on the mound giving up 3 hits and striking out 5 batters, as he was unhittable after the first inning. Being down 3 to zero before they could even come to the plate, Wahpeton didn't panic. They scored 4 runs in the first 2 innings, added 1 in the fourth, before breaking the game open and ultimately ending the game in the 5th inning by adding on 5 runs. The game ended early due to the 10 run rule. That is the season for Enderlin, as now Wahpeton moves on to play in the second game tomorrow at 1:30 p.m. and they will take on Lidgerwood/Hankinson.
GAME 3
LaMoure 7
Lidgerwood/Hankinson 1
In the third game of the day, LaMoure advanced to the winner's championship game after a 7-1 win over Lidgerwood/Hankinson. The story of the day for LaMoure was the fantastic performance from starting pitcher Landon Piehl who pitched six-and-one-thirds innings and gave just one hit, no earned runs and two walks while striking out ten batters. As for LaMoure's bats, shortstop Corban Potts went deep to left-centerfield for a solo home run in the third inning. They were able to break the game open in the bottom of the fourth when LaMoure scored five runs with a ground-rule two-RBI double from Potts and a two-RBI single from Piehl. First baseman Mac Bierman had a multi-hit day going 2-4 and right-fielder Cyle Warcken did as well finishing 2-3. Piehl finished the day 2-4 with two RBI, a double and a run. Potts also was 2-4 with a home run, a double, three RBI and two runs. LaMoure will take on Oakes at 6:30 p.m. tomorrow night.
GAME 4
Oakes 10
Lisbon 4
Oakes' offense came through with ten more runs, matching their quarterfinal total, thanks to two home runs from starting catcher Joey Heim. Heim's stellar performance amounted to a 3-4 day with five RBI including two two-run bombs to left-centerfield to put the game out of reach. Brady McKenna got the start on the mound for Oakes and he came up big. He went six-and-two-thirds innings and struck out five while not allowing a single walk. McKenna surrendered four runs (three earned) with three of them coming with two outs in the sixth inning. Second baseman Conor Schall went 2-5 with an incredible relay throw to gun down opposing starting pitcher Cam Opp. Shortstop Garrett Meehl also had a multi-hit day going 2-4 with two runs and an RBI. Designated hitter Bryley Haberman went 2-4 with two singles. The win gives them another chance at LaMoure who has beaten twice in the regular season. Their third meeting will be at 6:30 p.m. tomorrow evening.