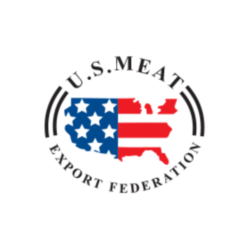 (NAFB) – U.S. red meat exports closed the first half of the year on a strong note, according to the U.S. Meat Export Federation.
Although volume and value eased from April and May, export value was still the highest on record for the month of June, and first-half shipments established a record pace for both beef and pork.
June beef exports totaled 112,200 metric tons, up 42 percent from a year ago when exports were still hampered by COVID-19 disruptions. Export value was $804.4 million, up 68 percent from a year ago and the third-highest on record. First-half exports reached over 700,000 metric tons, up 18 percent from a year ago.
Pork exports reached 238,000 metric tons in June, up 15 percent from a year ago, while export value climbed 35 percent to $696.8 million. First-half pork exports topped last year's record pace by one percent at 1.58 million metric tons, valued at $4.33 billion.