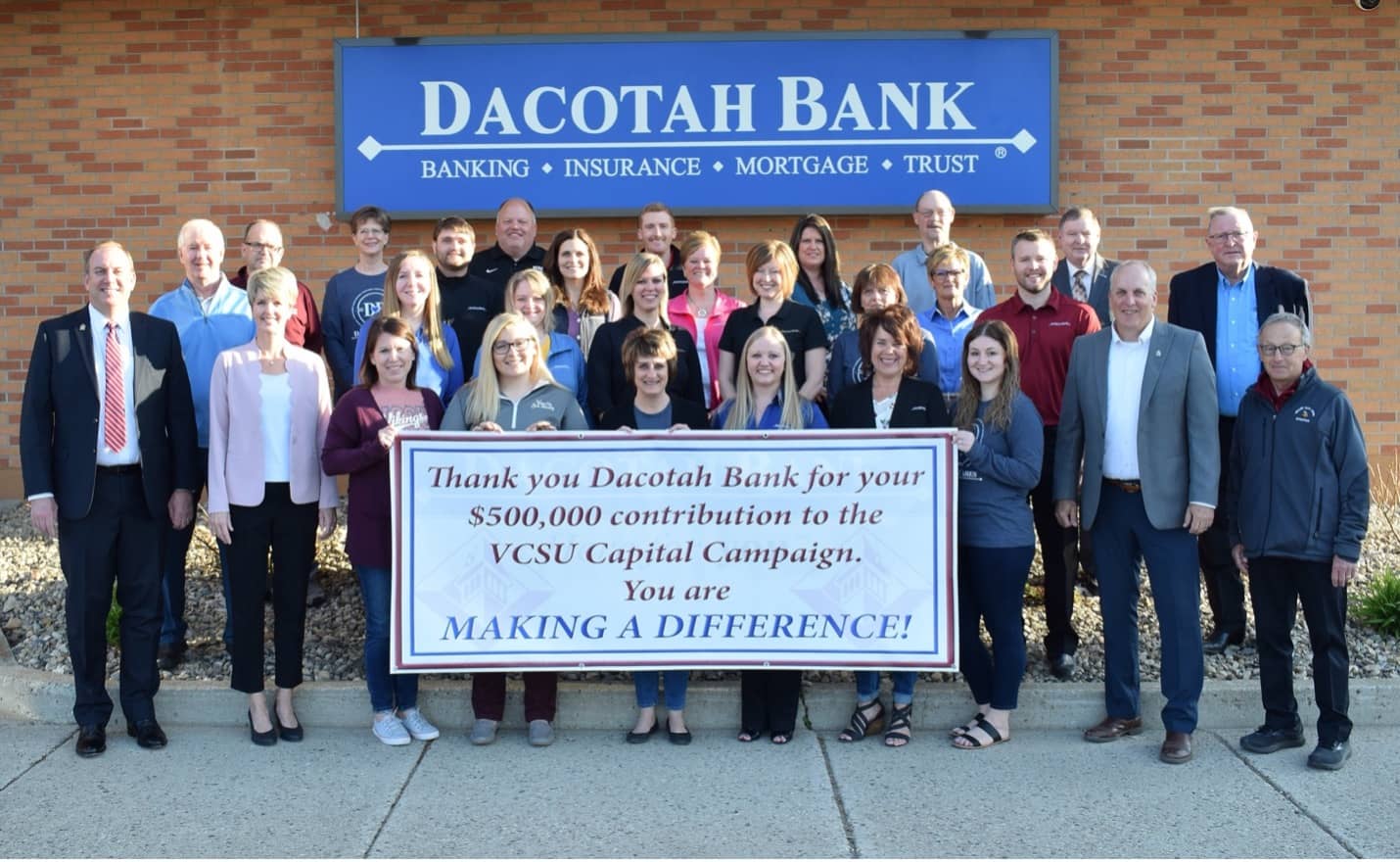 VALLEY CITY, N.D. (VCSU) – Valley City State University President Dr. Alan LaFave and Dacotah Bank in Valley City have announced a $500,000 donation to VCSU's ongoing capital campaign. The donation from Dacotah Bank is one of several major gifts so far during the early stages of VCSU's $25 million capital campaign: Forward Together.
"We are extremely grateful for this generous gift," said LaFave. "This contribution speaks to Dacotah Bank's ongoing commitment to Valley City State University and the Valley City community. This gift, in addition to several others, clearly shows our campaign is gaining momentum and members of our community recognize this effort as an important part of the future of VCSU."
The $500,000 one-time donation is the largest to VCSU in Dacotah Bank's relationship with VCSU, said Paige Bjornson, market president for Dacotah Bank in Valley City.
"As a committed, independent community bank we understand the value of creating quality experiences in our home towns and helping support the organizations that are shaping our future community members, leaders and families. We want our town to be a target for the best of the country's youth to come and succeed. To celebrate VCSU's legacy of successes we are more than excited to help the facility complete the new Dacotah Bank Viking Hall of Fame."
Based in Aberdeen, S.D., Dacotah Bank has assets that exceed $3 billion, making it one of the largest independent banks in the upper Midwest. With dozens of hometown locations throughout North Dakota, South Dakota and Minnesota, Dacotah Bank employs over 500 people and serves over 60,000 customers with banking, insurance, mortgage, and trust and wealth management services.
VCSU's Forward Together campaign includes an expansion of the university's athletic facilities, increased scholarship support and renovations of two key buildings on campus.
Athletic facilities on campus have remained largely unchanged since the W.E. Osmon Fieldhouse was built in 1960. The number of athletes, teams and athletic staff have more than doubled. The expansion of the W.E. Osmon Fieldhouse will include an indoor turf practice facility, a new weight room and locker rooms, and the new Dacotah Bank Hall of Fame to honor former Viking athletes.
The campaign also includes additional scholarship support for students. Forward Together also includes necessary improvements to the Memorial Student Center, and renovations for McCarthy Hall. McCarthy Hall will become the home for VCSU's renowned School of Education and Graduate Studies.
"These improvements are long overdue and will meet actual needs of the university," LaFave said. "This campaign is critical in our efforts to continue to provide the highest quality education for students. We are grateful to supporters who have stepped up to the plate like Dacotah Bank, and look forward to welcoming more donors as the campaign continues."