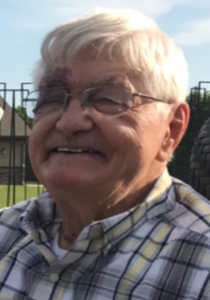 Elton Kramer, 95, Jamestown, ND died Thursday August 12, 2021 at Ave Maria Village in Jamestown.
Elton was born November 11, 1925 at Dickey, ND, the son of Curt and Emma (Maisel) Kramer. He attended school and graduated from Dickey High School.
He entered the US Army September 28, 1950 at Fargo, ND. He was discharged September 20, 1952 with the rank of PFC.
Elton and Lorraine Clark-Haugen were married May 19, 1956 at Lisbon, ND. They made their home near Dickey/Adrian as dairy farmers from 1956-2001. They moved to Jamestown in 2001 for their retirement.
He was a member of the Trinity Lutheran Church in Adrian, and the VFW in Jamestown.
Elton is survived by 4 children, Michell (Vernon) Weixel, Randall (Peggy) Haugen, Elta (Frank) Bietz, and Corine (Chet) Pollert; 14 grandchildren, 22 great grandchildren, 2 great great grandchildren; 1 brother, Loren (Leone) Kramer; 3 sisters, Marion Peterson, Elaine Millspaugh, and Ruth (Jim) Lee; and special friends, Roland and Judy Schlenker.
He was preceded in death by his parents, his wife in 2019, 1 son, Montell Haugen, 1 grandchild and 7 brothers.
Funeral Service – 11:00 AM Saturday August 21, 2021 at the Haut Funeral Home in Jamestown, ND
Burial – Adrian Cemetery, Adrian, ND
Arrangements- Haut Funeral Home & Celebration of Life Center, Jamestown, ND