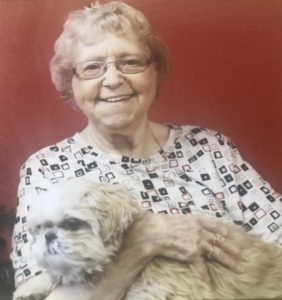 Marlys J. Bjerke, 89, Fargo, ND passed away at Bethany on University, August 17, 2021. A memorial service will be held for her in the Lerud Mathias Funeral Home chapel on Sunday, August 22 at 2:00 PM. She will be laid to rest at the ND Veteran's Cemetery in Mandan, ND.
Marlys Joan Good was born November 22, 1931 in LaMoure, ND to William and Muriel (Halvorson) Good. She grew up in LaMoure and graduated from LaMoure High School.
She was married to Charles Haws and together they had 5 children. During her working years, she worked as a laundress, a secretary, a security guard, and later in life she worked with Comfort Keepers.
She settled in Fargo, ND and married Orval Bjerke.
Marlys is survived by her daughters, Susan (John) Salzsieder, Patty Gemelke, and Julie Stanley; 13 grandchildren; and many great grandchildren.
She was preceded in death by her husband, Orval; son, Rick Haws; daughter, Ronita "Roni" Haws; grandson, Nathaniel Haws; great grandson, Kevin Lemna; and son-in-law, Tim Gemelke.
An online guestbook and tribute page can be found at www.lerudschuldt.com. The Lerud Mathias Funeral Home is assisting Marlys' family with arrangements.