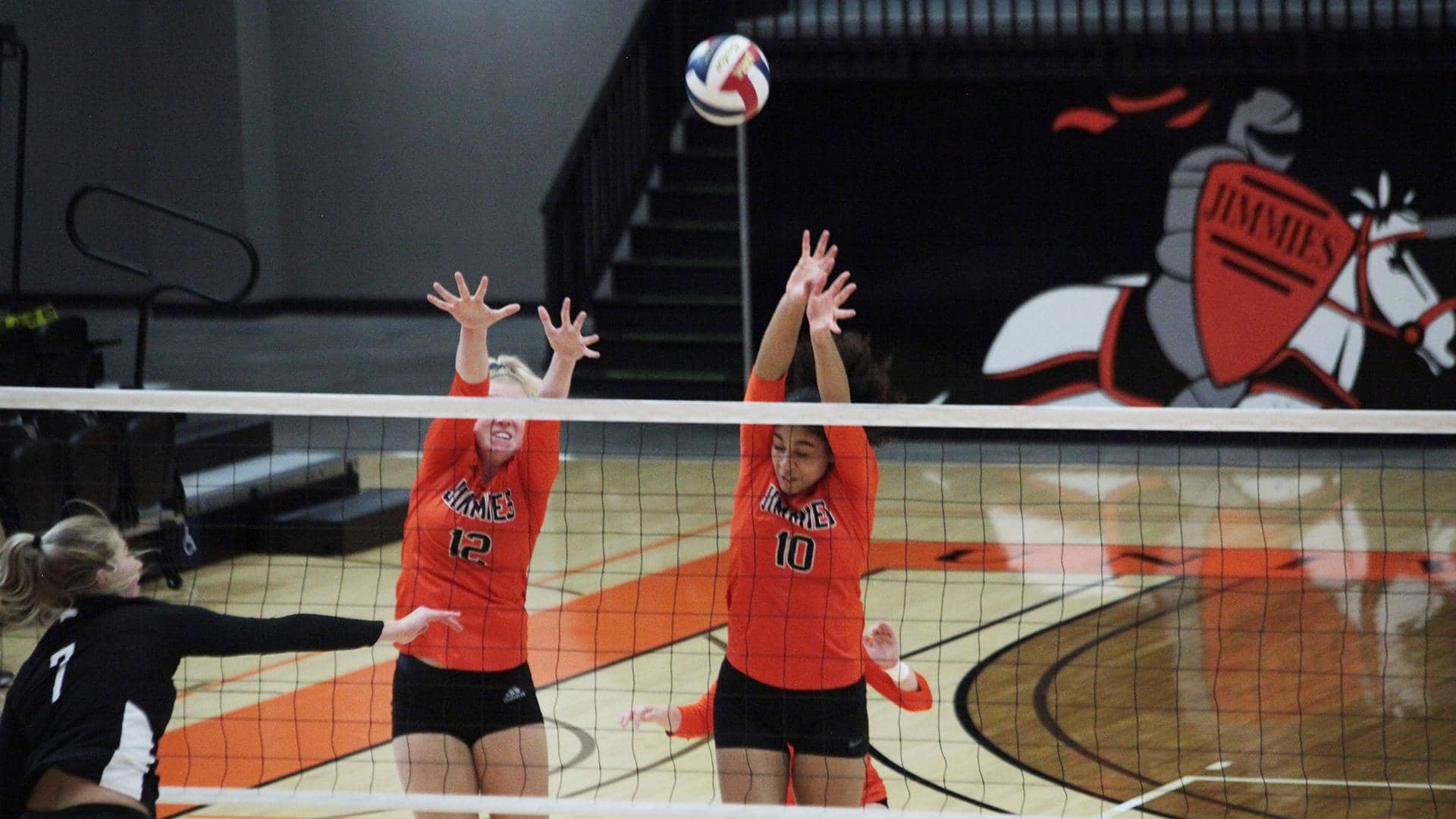 Photo and Article via Jamestown Athletics
SIOUX CITY, Iowa (JimmiePride.com)– The second-ranked University of Jamestown women's volleyball team kept its opening-season winning streak intact Saturday afternoon, defeating Morningside University in GPAC action.
Match Score: No. 2 University of Jamestown 3, Morningside (Iowa) 0
Set Scores: 25-23, 25-19, 25-17
Records: UJ 11-0, 2-0 GPAC;  Morningside 8-8, 1-3 GPAC
Location: RVSC-Allee Gym, Sioux City, IA
After going the distance with eighth-ranked Northwestern (Iowa) College an evening before, the Jimmies took care of the Mustangs in three sets Saturday. UJ won its seventh straight match against Morningside and are now 9-3 in the last 12 meetings dating back to 2007.
Set one featured 11 ties and four lead changes as Jamestown came away with a 25-23 win. The final two sets had only two ties and one lead change combined with the Jimmies maintaining control in closing out the victory.
Kalli Hegerle (JR/West Fargo, N.D.) put down 14 kills in 26 attempts without an error, hitting .538 for the match. Taylor Sabinash (JR/Kensal, N.D.) added eight kills and hit .462, while Anna Holen (JR/LaMoure, N.D.), Jayla Ritter (JR/Forest Lake, Minn.), and Corina Huff (SR/Pequot Lakes, Minn.) each finished with seven kills.
Jackie Meiklejohn (JR/Dickey, N.D.) had 24 assists and Megan Gaffaney (JR/Jamestown, N.D.) 15, helping UJ hit .306 for the match.
Ellie Holen (FR/LaMoure, N.D.) had 22 digs, followed by Anna Holen with 13. Huff had three total blocks and Sabinash had two.
Next Up: Jamestown plays its first home match of the season on Wednesday when they host Dordt (Iowa) University at 7:30 p.m.