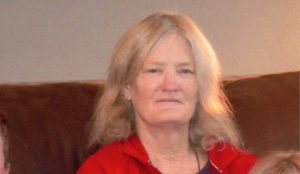 Mary Engle, age 65, of Rogers, ND, died Sunday, September 26th at her residence in Rogers, ND. A memorial service will be held at 2:00 PM Friday, October 15th at the Lerud Mathias Funeral Home Chapel. Visitation will be held on Thursday, October 14th from 5:00 PM until 7:00 PM and one hour before the service on Friday afternoon at the funeral home in Valley City. Inurnment will be in the Dazey Cemetery, Dazey, ND.
Mary Alice Batchelder, the daughter of Gerard and Doris (Ryan) Batchelder, Sr., was born September 5, 1956 in Chelsea, MA. Mary graduated High School in California. On February 28, 1976 she married Douglas Engle at Sacred Heart Catholic Church in Sanborn, ND. The couple made their home in Rogers, ND where they raised their three sons, Ryan, Robert and Joshua. In 2000, Mary Graduated from Valley City State University with a Bachelors' Degree in Education. Mary taught school in Wimbledon and Pingree and was also a substitute teacher at many schools in the area. Mary also served as the gaming manager for the Rogers Fire Dept and was also the Auditor for the City of Rogers.
Mary is survived by her husband Doug; two sons, Robert and Joshua, all Rogers, ND; three grandchildren, Blake, Grand and Claire; her siblings, Gerard Batchelder, Jr., Boston, MA, Judy (Peter) Tuebner, Fairfax Station, VA, Phyllis Batchelder, Amsterdam, Netherlands and Phillip (Margaret) Batchelder, Ponte Verdra, FL.
Mary was preceded in death by her parents and her son Ryan.