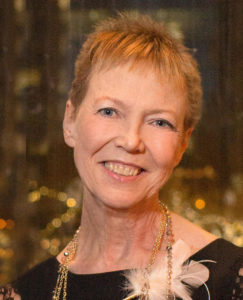 Jane Louise Hammer was born on October 26th, 1955, in Linton, ND, youngest daughter to John (Jack) and Louise Speyers. She attended elementary and high school in Napoleon, ND, graduating in 1974.
She married Myron Hammer May 29th, 1976, in Streeter, ND.
She was continuously involved with education either by being a student or a teacher.  She achieved a Bachelor of Science degree from both North Dakota State University and Valley City State University.  She later obtained a Master's degree from the University of Mary.
Jane was the first woman agricultural education teacher and FFA advisor in the state of ND.  She taught high school Vocational Agriculture in LaMoure from 1977-1979.  She then taught Vocational Agriculture in Tioga from 1979-1983.
Myron and Jane moved to rural Kathryn, ND, in 1983 after Myron took over the family farm. She taught Adult Farm Management at the Vo-Tech Center in Valley City, and Vocational Agriculture at North Central High School until she was hired at Valley City State University in 1996 as an adjunct teacher.  After receiving her Master's Degree, she was a fulltime assistant professor at VCSU for the Department of Computer Systems and Software Engineering from1998 until her retirement in 2019.
Jane enjoyed volunteering in her surrounding communities. She wrote a grant for Fort Ransom Elementary School to modernize a computer lab.  She helped with Fort Ransom's SVACA. She served at Sodbuster's hosted by the Fort Ransom State Park. She volunteered to teach Odyssey of the Mind for Fort Ransom School and was a 4-H leader in Ransom County. She also taught youth horsemanship classes at the Fort Ransom Arena.
Jane's true passion was horses.  She was involved with horses starting from the time she was a young child.  In recent years, Jane actively started participating in American Quarter Horse Association sponsored equestrian shows. She made many friends and cherished all memories from her time spent preparing for and attending these events.
Myron and Jane were foster parents and helped raise numerous children.They became especially close to one child who lived with them several years, Allie (Mike) Thoreson, Kathryn. In 1986, they welcomed the birth of their daughter, Jessinta (Lee) Widdel, Minot.
Even though Jane was small, the impact she left on this world and the people in it was huge. She was giving, feisty, stubborn, and so very much loved. Her focus was to educate and help others any way she could. When her daughters were growing, she baked fresh bread every Saturday morning while watching Saturday morning cartoons.  Everyone would comment, "Jane has the best buns!" – treats which she would readily give away to friends, family, farriers, neighbors, and visitors. She made the most delicious chicken salad sandwiches as snacks for Jessinta's 4-H club and Girl Scout troop meetings. In later years, Jane was known for her garden and preserving what she grew.  Cupboards and freezers are filled with her 2021 produce. Jane would often say, "One day at a time", Matthew 6:34, when comforting those who were hurt or stressed. The hole left in the hearts of those who know and love her is large, so per her advice, "One Day at a Time."
Including her daughters, she is survived by her husband, Myron; four grandchildren: Orin, Bia, Etta, and Jents; sisters Jennie (Charles) Rousu, Fargo, Marie (Bill) Hallock, Jamestown, Carol Altman, Wichita, KS; and many nieces and nephews. She was preceded in death by her parents, brothers William Hazer, Antone Speyers and John Loehrer, sisters Deloris Meade and Norma Thomas.
Jane died October 6th, 2021 at the age of 65 at Sanford Hospital in Fargo.  The outdoor memorial service will be held 2:00 pm on Monday, October 11, at the Preston Lutheran Church, rural Fort Ransom. Inurnment will be in Preston Cemetery. Memorial arrangements have been entrusted to the Oliver-Nathan Funeral Chapel, Valley City, ND. An online guestbook is available at www.oliver-nathanchapel.com