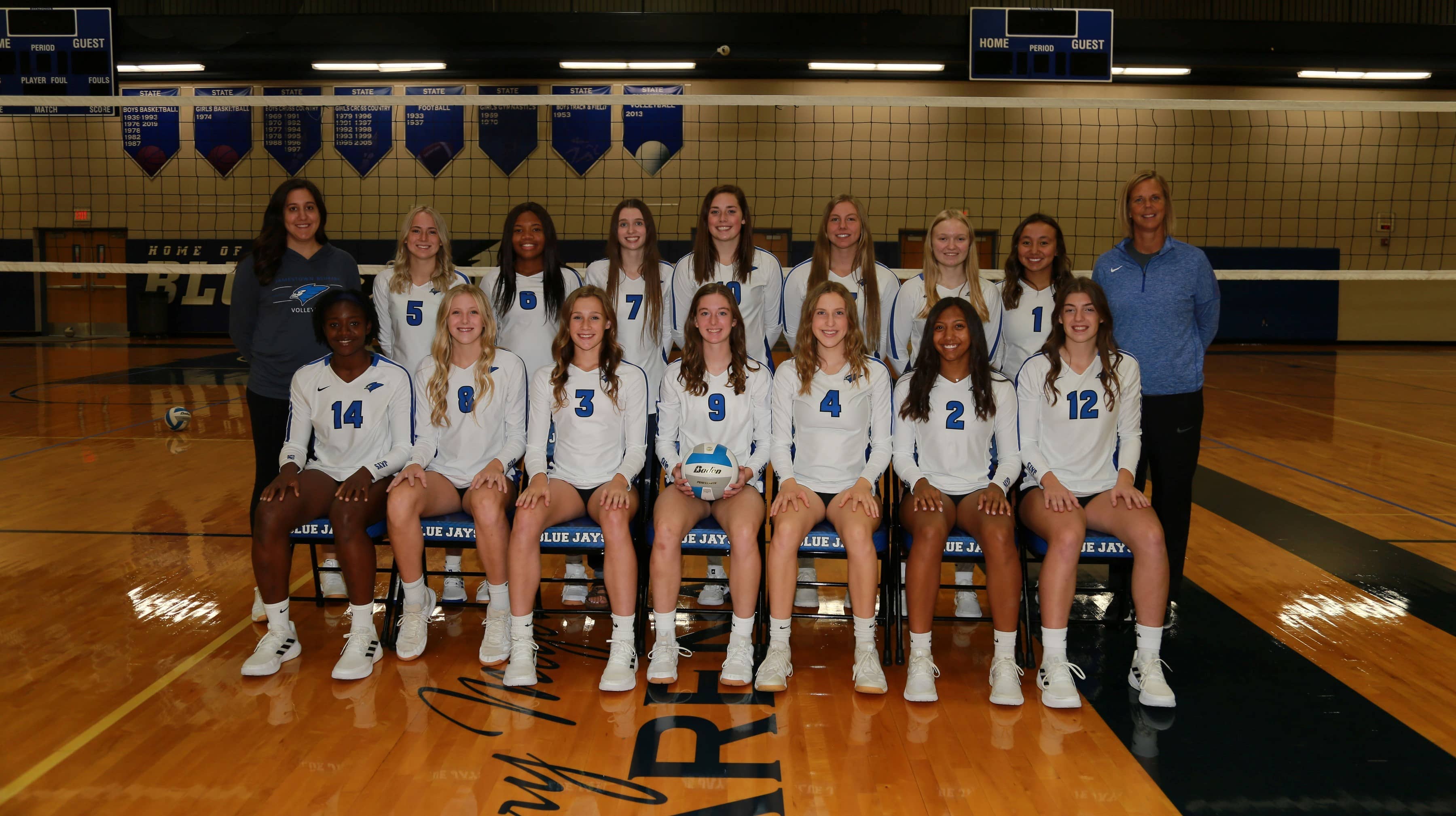 JAMESTOWN, ND. (NewsDakota.com) – The Jamestown High School volleyball team picked up two conference wins on Saturday afternoon as the Blue Jays swept Williston (25-7, 25-11, 25-12) in a WDA double counter.
Jamestown improved to 20-10 on the year and 11-5 in the WDA with the victory, led by junior Katie Falk who finished with 10 kills. Annie Nabwe and Hunter Petersen each picked up eight kills, and Bernadette Newman added seven more for the Blue Jays. Through 14 conference matches this season, Newman and Petersen are tied in total kills at 142. Newman tied for the team high in service aces in the match with Rylee Joseph, as the two juniors both finished with three.
Katie Trumbauer, who has recorded over 1,000 assists in her Jamestown career, tallied 17 assists and two service aces in the win Saturday. Sophomore Makenna Nold finished near double digit assists, adding in eight. Libero Jenna Fischer helped lead the Blue Jay back line with eight total digs, followed by Joseph who had seven.
Jamestown returns to play with three road matches this week, beginning on Tuesday night at Dickinson with an 8 pm first serve. The Blue Jays then travel to Bismarck Century Thursday night before heading to Watford City Saturday. The final regular season match for Jamestown will be played on November 2nd at Jerry Meyer Arena against Legacy at 7 pm.
FULL WDA STANDINGS (as of 10/18)
| | | | | | |
| --- | --- | --- | --- | --- | --- |
| Teams | Conf. | Winning Pct. | Streak | SW-SL | Overall |
| Century | 15-0 | 1.000 | W15 | 46-2 | 27-1 |
| Bismarck High | 13-1 | .929 | W5 | 41-5 | 23-4 |
| Jamestown | 11-5 | .688 | W2 | 34-19 | 20-10 |
| Mandan | 11-5 | .688 | W2 | 37-23 | 16-14 |
| Legacy | 10-5 | .667 | W2 | 35-23 | 16-13 |
| St. Mary's | 10-6 | .625 | W1 | 33-22 | 17-13 |
| Dickinson | 6-11 | .353 | L3 | 24-36 | 15-15 |
| Minot | 4-11 | .267 | L1 | 21-34 | 9-19 |
| Williston | 2-13 | .133 | L10 | 6-37 | 8-20 |
| Watford City | 2-13 | .133 | L3 | 8-39 | 4-18 |
| TMCHS | 0-14 | .000 | L14 | 1-42 | 0-15 |