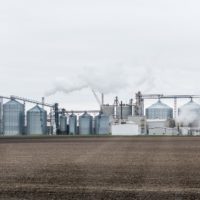 (NAFB) – The U.S. Energy Information Administration says ethanol output topped the million-barrel a day mark for the first time in two months during the week ending on October 8.
At the same time, inventories also began to decline. Biofuel production jumped to an average of 1.032 million barrels a day during the week. That's up from 978,000 barrels a day, on average, the previous week, and government data says that's the highest level since July 9. It's also the first time production averaged more than one million barrels a day since July 30.
The nation's largest producing region is in the Midwest, which averaged 977,000 barrels a day in output during the week, up from 937,000 barrels the previous week and was the highest level since the week ending on July 16. East Coast production doubled to an average of 12,000 barrels a day, while Gulf Coast output surged to 25,000 barrels a day, up from 16,000 the prior week. Rocky Mountain production was steady at 11,000 barrels a day.
The only region that saw lower production was the West Coast, which fell to an average of 8,000 barrels a day from 9,000 during the previous week.