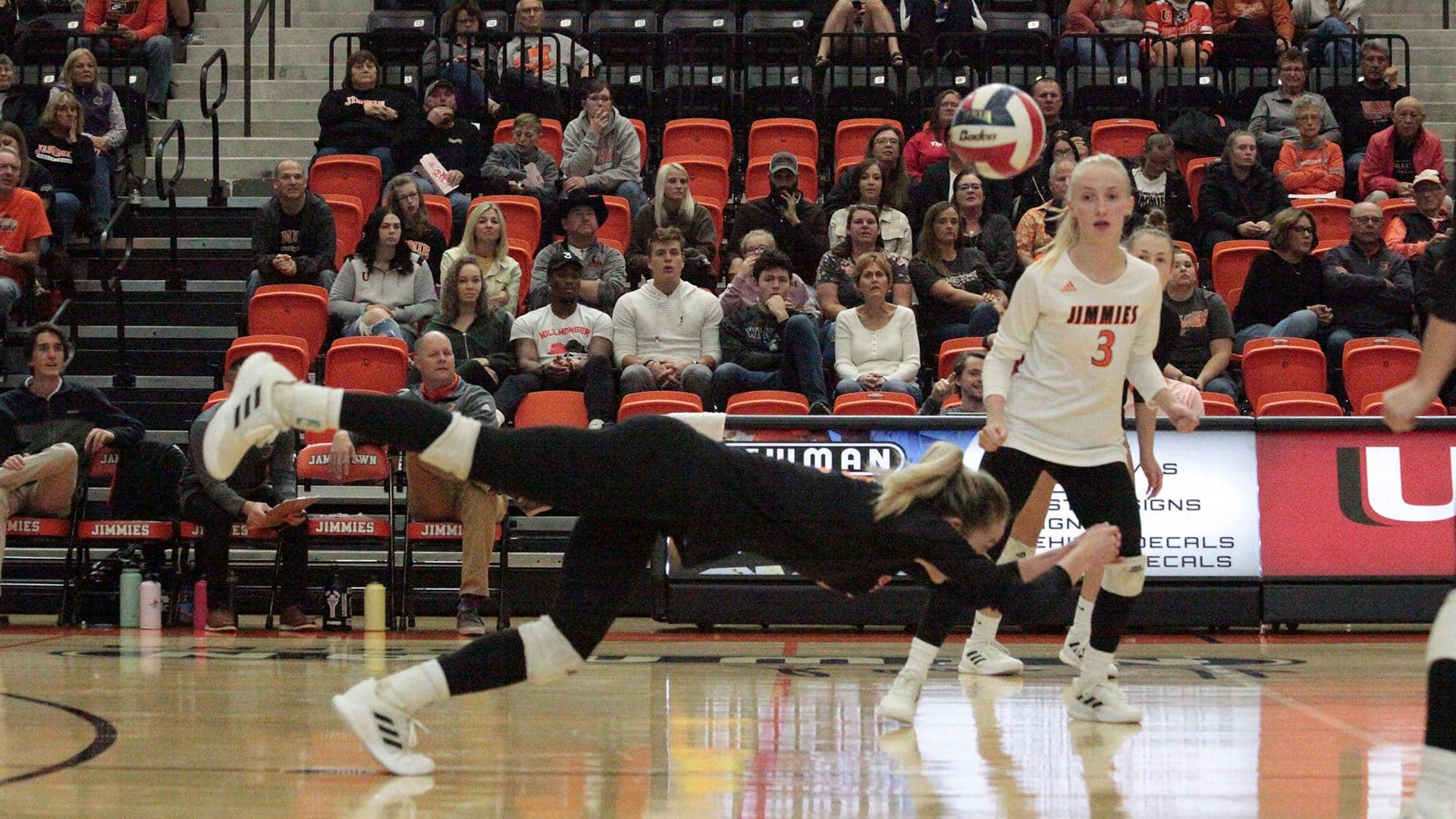 Photo and Article via Jamestown Athletics
JAMESTOWN, ND. (Jimmiepride.com) – The No. 1 University of Jamestown women's volleyball team maintained its perfect record with a 3-0 sweep of Hastings (Neb.) College Saturday evening at Harold Newman Arena.
Jamestown, now 23-0 overall and 12-0 in the GPAC, faces Valley City State (N.D.) University in a non-conference matchup on the road Monday.
After the Broncos got within 7-5 in the first set, UJ took five of the next six points to build a 12-6 lead. Hastings would get as close as four points at 12-8, but a 7-3 run by the Jimmies doubled their lead.
UJ outhit Hastings .304 to -.250 in set two, rattling off 11 straight points behind the serving of Jackie Meiklejohn (SR/Dickey, N.D.) after trailing 1-0. After a Bronco kill ended the Jimmie outburst, Jamestown came back with the next eight points for a 19-2 lead. The teams split the final 12 points of the set, but UJ still had a 2-0 match advantage.
The Jimmies started set three with an 11-3 run, and did not allow Hastings to get any closer than seven points. The Broncos won back-to-back points just once in the third, while Jamestown had two separate four-point runs. UJ made only two attack errors while forcing the Broncos into nine errors and a -.028 attack percentage in the frame.
Kalli Hegerle (SR/West Fargo, N.D.) had 11 kills and hit .550 for the match. Anna Holen (SR/LaMoure, N.D.) and Aleah Zieske (FR/Spicer, Minn.) both had seven kills.
Meiklejohn passed out 22 assists, while Ellie Holen (SO/LaMoure, N.D.) recorded 14 digs. Anna Holen added 11 digs and Jayla Ritter (SR/Forest Lake, Minn.) finished with three blocks.