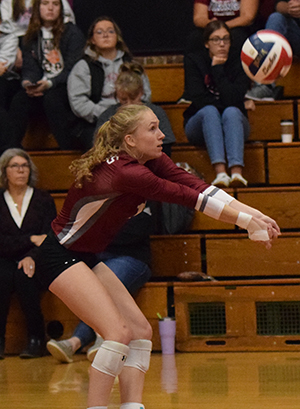 VALLEY CITY, N.D. (VCSUVikings.com) – The Valley City State volleyball team overcame a 2-1 deficit to pick up a 3-2 victory over (RV) Dakota State Saturday in Graichen Gym, 25-21, 18-25, 19-25, 25-23 and 15-12.
The Viking win is an impressive feat as Dakota State is receiving votes in the latest NAIA Top 25 Coaches' Poll. Dakota State also has notable wins over #8 Bellevue and #13 Dakota Wesleyan this season.
With Saturday's win, Valley City State retains sole position of third place in the NSAA standings with four conference games remaining in the regular season. VCSU improves to a 7-3 NSAA record and a 12-14 record overall. Dakota State drops to fourth place in the conference standings with a 6-4 NSAA record and a 15-6 record overall.
Junior outside hitter Bailey Nelson continues to lead the Vikings as she pounded 22 kills and posted three assisted blocks Saturday. Brooke Blessum added 10 kills and five blocks at the net (4 assist, 1 solo).
Katie Juarez finished with a season-high 26 digs and 11 kills for her 14th double-double this season. Sadie Hansen also marked her 14th double-double of the season with 48 set assists and 14 digs Saturday. Hansen, Ella Roaldson and Makayla Wetzel also added six kills each.
Kallene Klever totaled 24 digs and a pair of service aces for VCSU.
Valley City State started strong, forcing eight Trojan errors in set one. VCSU pulled away to finish the first set on a 5-2 run, including a pair of kills from Blessum, to take the first set 25-21.
The Trojans then took a big 22-12 lead in set two. From there, VCSU took five straight points but it wasn't enough as Dakota State finished with a 25-18 win in the second set.
Dakota State pounded 19 kills en route to take the third set, 25-19. Then in set four at a 15-15 tie, the Vikings took a 6-2 run to help lift the Vikings to a 25-23 victory.
Valley City State finished with its best set of the day, tallying 12 kills on a .375 hitting percentage. Three straight Viking kills from Juarez, Roaldson and Nelson brought up match point at 14-9. After three Viking errors and a timeout to regroup, a Bailey Nelson kill finished the final set in favor of the Vikings, 15-12.
Dakota State's Maddie Polzin led all players with 24 kills and added 11 digs Saturday. Sydney Schell chipped in 14 kills and 22 digs while Hannah Viet totaled 11 kills and five assisted blocks.
Senior Peyton Groft totaled a game-high 28 digs for the Trojans.
UP NEXT: Valley City State finishes out the regular season on the road. The Vikings travel to Waldorf next Friday for a match at 7 p.m. and then face No. 2 Viterbo on Saturday at 1 p.m.