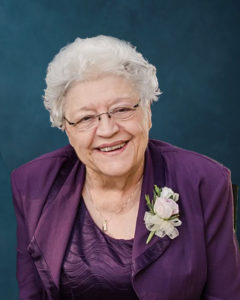 Marge Sayler, 79, Valley City, ND passed away at Essentia Health in Fargo, ND on November 12, 2021.  There will be visitation at the Lerud Mathias Funeral Home Chapel on Thursday, November 18 from 5:00 PM until 7:00 PM.  A prayer service will be held there beginning at 7:00.  Her funeral service will be held at Faith Lutheran Church at 2:30 PM, Friday, November 19 and she will be laid to rest at Memory Gardens near Valley City.  The prayer service and funeral service will be live streamed then archived and available to view along with her obituary at www.lerudschuldt.com
Marjorie Mae (Meidinger) Sayler was born on May 30th, 1942 in Zeeland, ND to Edwin and Dorothea Meidinger. She passed away on Saturday, November 12th, 2021.
She graduated high school in 1960 from Wishek, ND. Marge had the drive of an entrepreneur. She opened and operated a number of businesses, including Marge's Family Apparel, Fashion Crossroads, and Tots to Teens. She was also the office manager for Sayler Optometric Center for many years. Most recently, Marge ran Victorian Charm Bed and Breakfast from 1995-2020.
Marge was often seen supporting her children and grandchildren in their various activities. From cheerleading to volleyball to baseball, she rarely missed an event. She also loved to host, bake, crochet, and play games like pinochle, speed, and solitaire with family. She was truly her happiest when her house was filled with family.
Marge is survived by her husband, Larry H. Sayler; children, Larry E. Sayler, Nathan (Marsha) Sayler, and Natalie (Clint) Meyer, 14 loving grandchildren, along with many other cherished family members.
She was preceded in death by her parents, Edwin and Dorothea Meidinger. She was welcomed into heaven and into the loving arms of her daughter, Doreen Sayler.
In lieu of flowers family is suggesting donations be made to St. Catherine's School or to the children's program at Faith Lutheran Church.