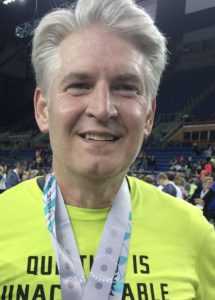 On Saturday, November 20th, the world lost its greatest human. Mick Pytlik, 60, of West Fargo, ND, passed away at Sanford Health after a relentless fight against Multiple myeloma.
Mick was born August 4th, 1961 in Valley City, ND, the first of three boys to parents Leon and Marleen Pytlik. There was nothing he cared about more than family, from his first job at the family business to his last job working with his brother.
He married Robyn Dahl May 25, 1985 after proposing on Valentine's Day the year before. They welcomed a daughter in 1986, and four years later Mick delivered his second daughter on the side of I-94, one of the most meaningful moments of his life. Their family became complete in 1993 with the birth of their third daughter, and they moved to West Fargo for Mick to continue his 28 year career with the state university system. He was a helper everywhere he went, and community and citizenship were important to him; earning his Eagle Scout, serving as a city commissioner in Valley City, coaching his daughters' soccer teams, and never turning down a kid fundraising at his door. Mick was an athlete and sportsman; he wrestled and played football as a teen, shot competitively throughout his life, and became a runner as an adult. He loved his Iggies and being involved with dog training. Giving blood was a passion, and in a cruel twist of fate, he was diagnosed with multiple myeloma after attempting to donate for the 99th time. Mick was able to experience the greatest joys of his life with the birth of his grandkids Owen Michael and Elenora Mae.
He is survived by his wife Robyn; his daughters Roberta (Tim), Melissa (Andrew), and Michaela; grandkids Owen and Elenora; mother Marleen; brothers Joe (Lori) and Darin (Jen); and his beloved nieces and nephews, cousins, and in-laws. He is preceded in death by his father Leon, mother-in-law JoAnn, father-in-law Jack, and his cherished grandparents.
A memorial service will be held at Our Saviors Lutheran Church, Valley City, Tuesday, November 30, 2021 at 1:00 PM. He will be laid to rest in Memory Gardens near Valley City.
The service will be live streamed then archived with his obituary on his tribute page at www.lerudschuldt.com.
The Lerud Mathias Funeral Home, Valley City, is assisting Mick's family with arrangements.