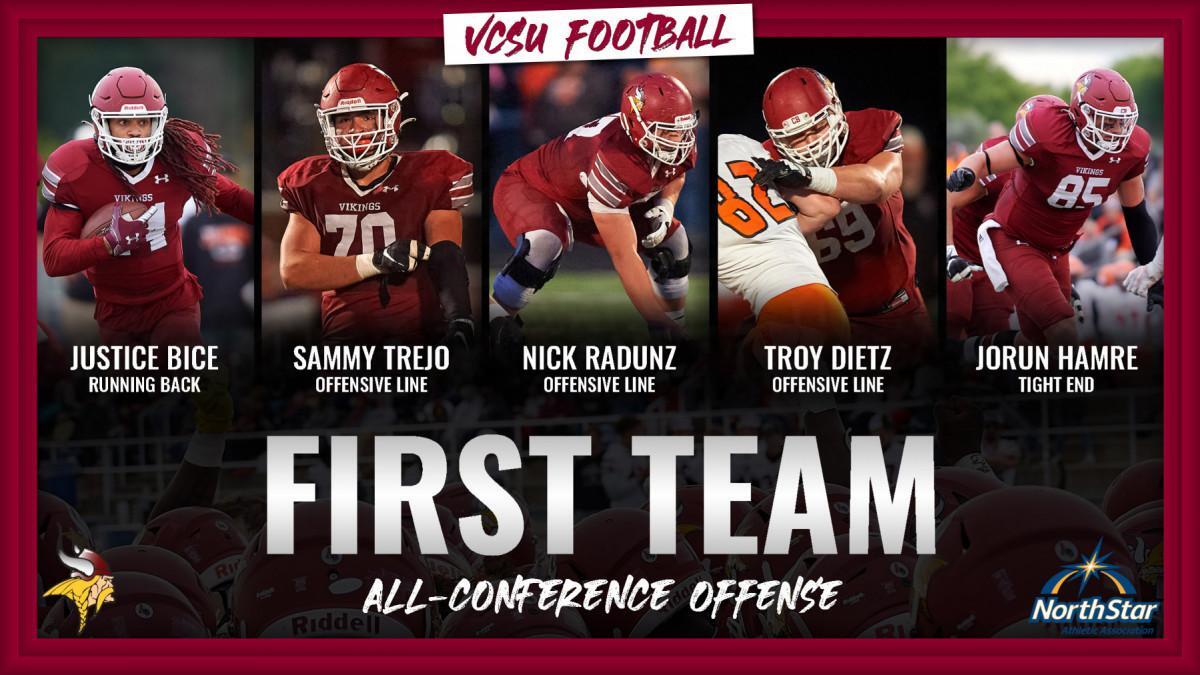 From VCSU Athletics
VALLEY CITY, N.D. (VCSUvikings.com) – Fifteen Valley City State University football athletes have been named First Team or Second Team All-Conference, the North Star Athletic Association announced Monday
The Vikings had nine players earn First Team All-Conference, including five on offense and four on defense. That was the most First Team selections among all conference schools. The Vikings had six players earn Second Team All-Conference – three each on offense and defense. Valley City State also had four players named Honorable Mention All-Conference.
VCSU finished the season with an 8-2 overall record and a 6-2 mark in conference play. The Vikings took second in the NSAA standings. VCSU was ranked as high as No. 15 in the country at one point and finished the season receiving votes in the final NAIA Top 25 Coaches' Poll.
All-Conference awards are voted on by the conference coaches.
FIRST TEAM DEFENSE
Defensive linemen Marshaun Jones and Riley Gerhardt, linebacker Jahidi West and defensive back Jerrod Williamson both earned First Team All-Conference for VCSU's defense.
Jones and Gerhardt headlined VCSU's dominant defensive line, which led the North Star in both sacks (35) and tackles for loss (74). Gerhardt had team-highs of 81 tackles, 10 sacks and 18 tackles for loss. Jones finished the year with 44 tackles, including 15.5 tackles for loss and 7.5 sacks.
Jahidi West led the NAIA with eight interceptions, helping VCSU's defense to a nation-best 21 interceptions this season. West added 45 tackles and seven passes broken up. Williamson established himself as one of the best defensive backs in the conference, finishing with 46 tackles, three interceptions and eight passes broken up.
FIRST TEAM OFFENSE
Running back Justice Bice, tight end Jorun Hamre and offensive linemen Sammy Trejo, Nick Radunz and Troy Dietz were all named First Team All-Conference for the Viking offense.
Bice racked up 794 yards and five touchdowns in the running game, averaging 4.2 yards per carry. He also caught 35 passes for 437 yards and three more touchdowns. Hamre caught 22 passes for 283 yards and two touchdowns. With Trejo, Dietz and Radunz earning First Team All-Conference, the Vikings seemingly had the top offensive line unit in the conference.
Hamre, Trejo and Dietz were all repeats as First Team All-Conference selections. Bice and Radunz both earned their honor this year in their first full season at VCSU.
SECOND TEAM ALL-CONFERENCE
Defensive lineman Garrett Pemelton, linebacker Sal Avila and defensive back Martin Jones were all named Second Team All-Conference for the Viking defense, which led the conference in allowing just 12.9 points per game. Offensively, quarterback Jalen Pfeifer and receivers Benjamin Dumond and Michael Cornelious earned Second Team All-Conference. The trio connected on 90 passes this season for 1,201 yards and 12 touchdowns.
HONORABLE MENTION
Four Vikings were named Honorable Mention All-Conference, including linebacker Dustin Kasowski, defensive back Anthony Russell, receiver Jacob Gottenborg and offensive lineman Joseph Salas.
CHAMPION OF CHARACTER
Quarterback/holder Avery Thorsgard was named VCSU's Champions of Character representative for the 2021 season.