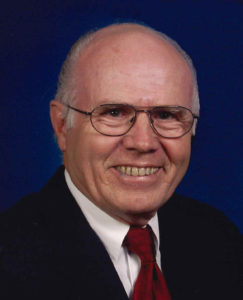 Manferd Royce (Manny) Drugan, 86, formerly of Valley City, ND passed away peacefully on Wednesday, January 5, 2022 at SMP Health – St. Catherine North in Fargo under the care of Hospice of the Red River Valley.
Manny was born on May 17, 1935. He was raised in Valley City, ND and was an active member of the Boy Scouts of America earning his Eagle Scout Rank in 1951. After graduating from Valley City High School in 1953, he served in Germany as an army medic during the Korean conflict. Upon his return, he attended college at Valley City State College and the University of North Dakota, graduating with a degree in business. He married Janice Peterson in 1959.
Manny began a career in banking and then owned and operated the Green Valley Laundry and Mac's Cleaners in Valley City with his business partner Jerry Huckle. After retirement, he and Jan spent 20+ winters in south Texas enjoying the warm winter weather with family and friends.
Manny is survived by his loving and devoted wife of 62 years, Jan; his children Dan (Peg) Drugan, New Ulm, MN; Sheila (Mike) Maldonado, Brownsville, TX, and Barb (Jim) Laschkewitsch, Fargo, ND; grandchildren Kjerstin Drugan, Joshua (Chantal) Maldonado, Jennie (Roberto) Coronado, Nicholas Laschkewitsch, Adam Laschkewitsch and great-granddaughter Nova Rain Maldonado. He is also survived by his sisters Patsy (Bill) Robbins and Sharon Miller.
He was preceded in death by his mother Nora, his brother Wayne Jr. (Rusty) and granddaughter Gretchen.
The family would like to thank Essentia Health Systems, SMP Health-St. Catherine North and Hospice of the Red River Valley for the compassionate care they provided Manny.
A memorial service will be held at 1 pm Saturday, January 15 at Oliver-Nathan Funeral Chapel located at 251 Central Ave S, Valley City, ND. An online guestbook is available at www.olivernathanchapel.com.