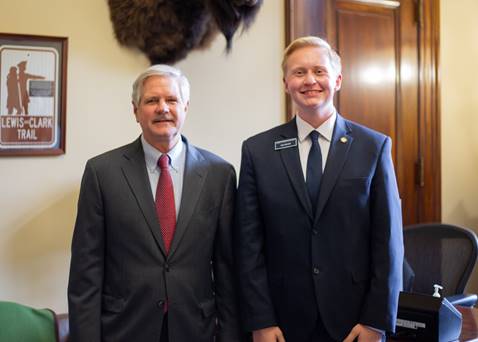 Senator John Hoeven and Jamestown student Will Nelson. Photo: Sen. John Hoeven's Office
JAMESTOWN, N.D. (NewsDakota.com) – Jamestown High School Junior Will Nelson shared his experience serving as a page for the North Dakota Senate with the Jamestown Public School Board Monday.
The Senate Page program dates back to 1829. Senate pages serve primarily as messengers, delivering documents throughout the Capitol complex. Other responsibilities include preparing the Senate Chamber for each day's business, distributing the Congressional Record and other documents related to daily business and assisting in the cloakrooms and chambers.
Nelson was sponsored by Senator John Hoeven.
30 students are selected every semester. Nelson was one of 23 pages that served for the Fall of 2022.
He added that Senator Hoeven made it a point to meet with Will during his time.
Nelson says he would complete his studies during the early morning classes held at the Senate Page School before completing his duties as a page.
He encouraged students who have an interest in politics to consider applying for the experience.
Superintendent Dr. Rob Lech added that they were proud to have been represented by Nelson.
The Jamestown Public School District has had other pages before including McKayla Willer and Cally Musland.