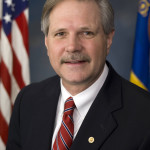 (NDAgConnection.com) – At a hearing of the Senate Agriculture Appropriations Committee he co-chaired this week, Ranking Member Senator John Hoeven again urged U.S. Department of Agriculture (USDA) Secretary Tom Vilsack to:
– Ensure the Livestock Indemnity Program (LIP) national payment rates reflect actual market rates and cover losses due to eligible diseases.
This follows a roundtable discussion that Hoeven held with North Dakota livestock producers last month, where he gathered feedback on the available federal assistance, including under LIP and the Emergency Livestock Relief Program (ELRP).
Producers raised concerns about the LIP payment rate for calves under 250 pounds, along with uncertainty regarding coverage for losses due to diseases, like pneumonia.
– Send out the $9.25 billion in disaster assistance for row crop producers as soon as possible.
Since securing the disaster aid in September, Hoeven has been pressing USDA officials, including Vilsack, Under Secretary Robert Bonnie and Farm Service Agency Administrator Zach Ducheneaux, to quickly distribute the aid and in a way that works for producers.
According to Secretary Vilsack, details of the row crop disaster program should be released later this month, with payments distributed in June.
The hearing builds on Hoeven's recent meeting with Vilsack, where he worked to advance these priorities for North Dakota producers.
"Back in September, we passed $10 billion in assistance for our farmers and ranchers impacted by drought and natural disasters. The majority of the livestock assistance has now been provided, but we need the row crop aid to get to our farmers as well. We continue pushing USDA to release the program details, which they've said should happen later this month, and because the assistance relies on existing crop insurance data, the payments are expected to go out quickly after that," said Hoeven. "At the same time, we've had blizzards and calf mortality this spring, and the FY22 LIP payment rates don't reflect the true cost of those livestock. We're asking that USDA work to adjust those rates and to ensure all eligible diseases that result from these severe storms are covered."