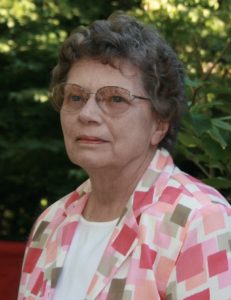 Dorothy "Jean" Reiten, 84, passed away at Edgewood Vista in Jamestown, ND on July 29, 2022, under the care of Hospice of the Red River Valley.  Visitation will be at the Lerud Mathias Funeral Home Chapel on Friday, August 5 from 5:00 until 7:00 PM.  The funeral service will be at First Lutheran Church, Litchville, ND on Saturday at 10:00 AM.  Burial will be in Spring Creek Cemetery, Hastings, ND.
Dorothy Jean was born on October 9, 1937, to Arthur and Hazel Swanson in Karnak, ND. The family moved to a farm west of Dazey, ND when she was quite young.  She was known to many by her middle name, Jean, because her parents thought Dorothy was too mature a name for a little girl and they would go back to Dorothy when she was older, but the name stuck.
Jean was confirmed at Our Savior's Lutheran Church of Dazey.  She attended elementary school in the Laketown Country School near their home and graduated from Dazey High School in 1955.  After high school, she attended Valley City State College and received her teaching certification.    Her first teaching job was at the Bowers Country School, a one-room school located between Sanborn and Rogers, ND.  This was followed by positions in Tappen, ND and finally Litchville Public School, Litchville, ND, where she taught first grade and then kindergarten for 34 years.  Several of her later students were children of students from years past.
Jean married Gordon Sanford Reiten on June 7, 1959, at Our Savior's Lutheran Church in Dazey.    They resided on the family farm near Hastings, ND and raised 3 children: Joel Reiten, Diane Reiten Dieterich, and Bruce Reiten.  In addition to raising the children, Dorothy helped with the livestock and fieldwork.  She often drove the combine and hauled grain in the fall.
Jean was very active in her local church, Spring Creek Lutheran Church of Hastings.  She was involved with all aspects of the Sunday School program, bible study, and Ladies Aid.  She helped sew countless quilts and dresses for the foreign missions.  She was also a leader with the local 4H club providing guidance for 25 years.  Jean was a longtime member of the Hastings Homemakers Club and the Retired Teachers Association.
In 2004, Jean and Gordon moved from the farm to an apartment in Valley City, ND.  They became members of Faith Lutheran Church where she got involved with quilting and bible study.  The couple eventually resided at The Legacy Place assisted living facility.
She was preceded in death by her parents and brother, Raymond Swanson.
Dorothy Jean Reiten is survived by her husband, Gordon of Valley City; son, Joel (Sharlene) Reiten of Cottage Grove, OR; daughter, Diane (Don) Dieterich of Seattle, WA; son, Bruce Reiten of Valley City; and five grandchildren, Cameron Reiten, Kaya Dieterich, and Alex, Bethany and Caitlin Reiten.
The family suggests donations to be made to the Spring Creek Cemetery, Hospice of the Red River Valley, or Faith Lutheran Church Building Fund.
The Lerud Mathias Funeral Home is assisting Jean's family with arrangements.  An online guestbook and tribute page is available at www.lerudmathias.com