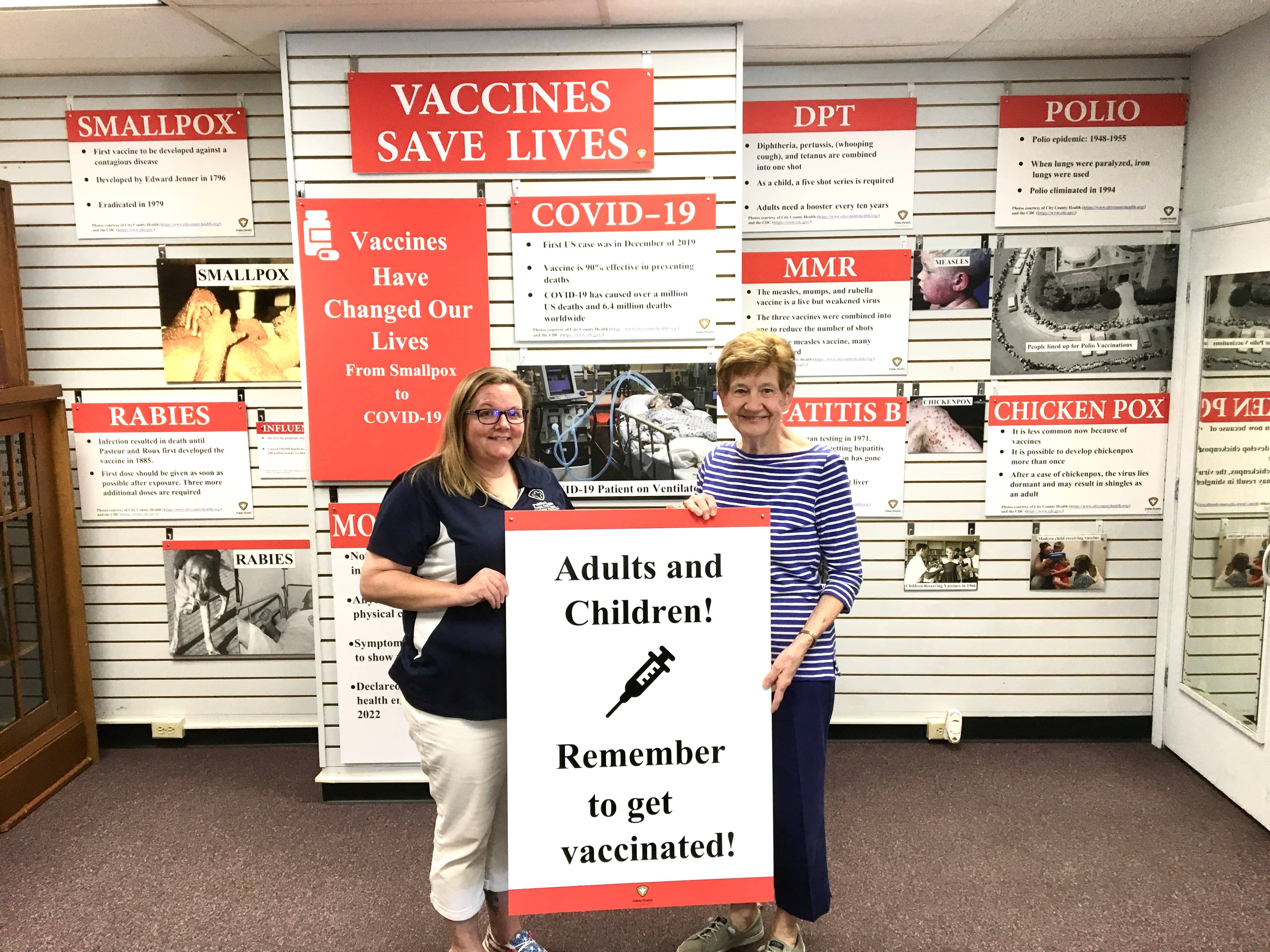 Kerry Due, Director of Nursing for City-County Health District and Sharon Buhr, MPH, public health volunteer reminding people to make an appointment for flu and COVID-19 shots. Call 845-8518.
VALLEY CITY, N.D. (CCHD) – Vaccines have been called the 8th wonder of the world because they have saved countless lives. And numerous effective vaccines have been developed over the last 200 years. Vaccines are one of the most successful and cost-effective public health interventions. The prevention of deaths far outweigh the nonfatal complications for all vaccines.
For COVID-19 it is estimated that 40% of deaths could have been prevented through vaccinations, this translates to 461,000 Americans who would still be alive today.
Let's look at the first disease a vaccine for which a vaccine was developed. Smallpox was identified as far back as 10,000 BC but it wasn't until the late 1700s that Dr. Edward Jenner recognized that inoculating a person with a milder form of smallpox that cows get (cowpox) could be used to protect humans. Lives were henceforth saved and smallpox was eradicated in 1977, with great joy and relief.
Another wildly successful story is that of polio. Folks over 60 remember when we could not go swimming because of polio and in fact progression was so aggressive during the warmer weather, children were kept at home during the summer in 1950, very similar to what was done during the summer of 2020 with covid. It was not known how polio was spread and there was no vaccine yet.
Polio is very close to being eradicated. In 2019 there were only 542 cases worldwide. Polio will be the second disease that we've managed to eradicate since smallpox.
The public is invited to learn more about vaccines and the diseases they prevent by visiting the Barnes County Museum located on Central Avenue in Valley City. A comprehensive display is available for viewing.
The City-County Health District plays a key role in administering vaccines. Kerry Due, Director of Nursing for City-County Health District (CCHD) encourages everyone to call CCHD at 845-8518 to make an appointment to get your annual flu shot, and any of the COVID-19 shots. "Neither of these diseases have gone away, and the vaccinations for these diseases are very important to protect each person from these deadly diseases," states Due.
In addition Due invites the public to call and book an appointment (for adults as well as children) for getting other vaccinations such as pneumonia, tetanus, measles, mumps, rubella, diphtheria, pertussis (whooping cough), hepatitis B, chicken pox, polio, as well as the flu and covid. Information about the various vaccines is available on the CCHD website at www.citycountyhealth.org