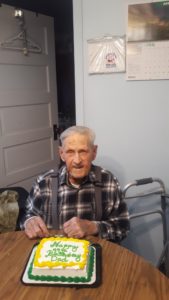 Wilfred Law, age 99, of Finley, ND, died Friday, November 11th at SMP Health-St. Raphael in Valley City. A funeral service will be held at 10:30 AM on Saturday, November 19th at Faith Lutheran Church in Valley City.  Visitation will be held on hour before the service at the church Saturday morning. Interment will be in Memory Gardens Cemetery near Valley City.  
Wilfred Clinton Law, the son of Gilbert and Olga (Stoleson) Law, was born April 29, 1923 in Cooperstown, ND.  Wilfred grew up and attended school in LuVerne, ND and graduated from Luverne High School in 1942.  Wilfred was extremely proud to me a member of the Luverne Consolidated School 1942 State Class C Basketball Championship Team.  After receiving his education, Wilfred worked for different farmers in the Valley City, ND area.  On February 19, 1946, Wilfred enlisted in the US Army and served his country during World War II until his discharge on May 8, 1947.  After his discharge, he returned to the Finley area where he began his farming and dairy operation.  On September 18, 1959, he married Almira "Pat" Carlsrud.  The couple lived and farmed together until 1997 when their son Craig took over the farming and cattle operation.  Wilfred continued helping Craig until his retirement in 2001.  Wilfred was an avid gardener and loved to do outside projects and keeping up the lawn on the farm.  Wilfred moved to SMP Health-St. Raphael (Then Sheyenne Care Center) in 2022. 
Wilfred is survived by his wife of 63 years, Pat, Finley, ND; two children, Craig (LuRae Weber) Law and Theresa (Lester) Tucker, all Jamestown, ND; three grandchildren, Katelyn (Joe) Claeys, Lino Lakes, MN, Tony Berklid, Moorhead, MN and Jacob Berklid, Ft. Ramson, ND; one great granddaughter, Anna Marie Claeys; numerous nieces and nephews.
Wilfred was preceded in death by his parents, four brothers, Lloyd, Russell, Henry "Bud" and Ray; one sister, Donna Nelson.
Funeral arrangements by the Lerud Mathias Funeral Home.  An online guestbook and livestream of Wilfred's service will be available at www.lerudmathias.com