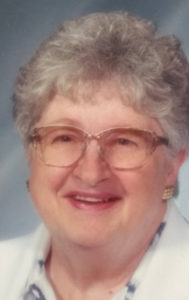 LORRAINE SYLVIA (STRANG) OLSON
Lorraine was born January 25, 1933 at Dawson, ND to Stewart and Lillian (Hanson) Strang. She was baptized and confirmed at Trinity Lutheran Church in Steele. She began 1st grade when she was 5 at Dawson and graduated from Dawson high school in 1950. She attended Concordia College for one year and transferred to Valley City State College and completed the 2-year Standard Teaching Certificate in 1952.  Taught elementary school at Fingal, ND from 1952 1955, then married Wayne Olson at Trinity Lutheran Church, Steele, ND on June 16, 1955. They lived on a farm east of Fingal where Wayne was farming. They had 5 children: Carole, Darrel, DeAnn, Donovan, and Barbara. Lorraine was a stay-at-home mom and helped on the farm doing chores, driving grain truck during combining, feeding cattle, slopping pigs, stacking hay, and helping out where needed until the boys were old enough to help.
At that time, she began taking correspondence classes and going to summer school at VCSU to be prepared to go back teaching, which she did in 1968 when Barbara was ready for kindergarten. She earned her Bachelor of Science Degree in 1973 and her Elementary Principal Credentials in 1978, so was then a teaching principal until retiring in 1992. They moved to Valley City in June of 1992.
At Fingal she was active in Sunday School, Bible School, choir, WELCA, playing organ at Messiah, Zion and St. Petri churches and also served on the church council. Because of her love of music, she taught her 3 girls and most of her 8 grandchildren to play the piano.
At Valley City she was a substitute organist at Trinity and at the Care Center chapel, served on various committees in WELCA, was a volunteer at the museum, belonged to Retired Teachers Association and was pianist there. A favorite time was when she helped plan the bingo party each January at the Care Center.
Lorraine and Wayne moved to Good Samaritan Assisted Living on August 27, 2014. She was the piano accompanist at daily devotions, and she shared her musical talents at numerous events. She participated in all activities and especially loved playing Rummikub with her friends.
Wayne moved to a nursing home in LaMoure, ND in 2015 and later to Elim nursing home in Fargo, ND. Lorraine was unable to join him before he passed away. Following a fire at Elim in January 2020, Lorraine went to Luther Memorial in Mayville, ND where she never missed an event and continued to sing and play piano. On November 18, 2022, she peacefully passed away.
Survivors: Children: Carole Gates, Bradenton, FL; Darrel (Julie) Olson, Fargo, ND; DeAnn (Mike) Holm, Peoria, AZ; Donovan (Brenda) Olson, Fingal, ND; Barbara (KC) McConn, Fargo, ND; 8 grandchildren: Nicholas (Lindsay) Olson, Audubon, MN; Jordan Olson, Gilbert, AZ; Megan Sabby, Seaside, CA; Riley Sabby, Palm Springs, CA; Madison McConn, Cave Creek, AZ; Co McConn, Fargo, ND; Taylor Olson, West Fargo, ND; Mataya Olson, Valley Village, CA; 2 step grandchildren: Damon Holm, Oakland, CA, and Brady (Leslie) Holm, Pleasant Hill, CA; 3 step great grandchildren: Bennet and Kellan Holm, Pleasant Hill, CA, andHailey Gilbertson, Audubon, MN; 1 brother: Donald (Alinet) Strang, Mesa, AZ; 2 sisters-in-law: Audrey Strang, Steele, ND and Janice Strang, Hutchinson, MN; and numerous nieces and nephews.
She was preceded in death by husband Wayne, parents Stewart and Lillian Strang, sister Dorothy and brother-in-law Albert Motl, brothers Horace and Norman Strang.
The funeral service will be at Trinity Lutheran Church in Valley City, ND at 10:30 a.m., Friday, December 2, 2022, preceded by visitation at 9:30 a.m.