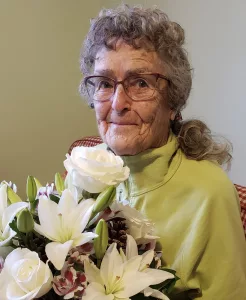 Elizabeth "Liz" Johnson Berge, 95, Valley City, ND (formerly of Litchville, ND) passed away at SMP Health-St. Raphael on November 14, 2023.  Her funeral service will be 10:30 AM, Saturday, November 18, 2023, in the Lerud Mathias Funeral Home Chapel, Valley City.  Visitation will be the hour prior to the service.  She will be laid to rest in Memory Gardens Cemetery near Valley City.  The service will be live streamed, then archived, on a link provided along with her obituary on her tribute page at www.lerudmathias.com.  An online guestbook is available there as well.
Elizabeth Noot was born January 13, 1928, to Theodore and Tryntje (Lanser) Noot.  She grew up near Marion, ND, where she attended and graduated high school.
On April 24, 1948, she married Bert Johnson.  They made their home on the farm where they worked side by side raising crops, livestock of all sorts, and six children.  After Bert died in 1978, Liz continued working on the farm, but now side by side with two of her sons.
Liz was in her words "a jack of all trades".  She helped run the farm, driving tractors and combines as well as feeding, milking, and taking care of cattle and other livestock and farm animals.   She made the meals, took care of household chores, sewed clothing, and even built the kitchen cabinets in the house.  In her spare time, she raised huge gardens of vegetables and flowers.  In 1995, she was named First Runner Up for the ND Country Woman of the Year.
She was involved in her community and her church.  Liz served on PTA, Senior Citizens, and in Ladies Aid.  She taught Sunday School.  Liz was an avid reader.  
On January 19, 2003, she married Byron Berge.  He passed away in 2008.
Liz is survived by her sons, Michael (Mary Kay), Thomas (LeeAnn), Daniel (Nancy); daughters, Peggy (Tony) Brandenburger and Vicki (Donald) Sames; 14 grandchildren; 14 great grandchildren; many nieces and nephews; and Byron's daughter, Sandra Franke.
She was preceded in death by her first husband, Bert and second husband, Byron; son, Bruce; sister, Anne Letcher; and brothers, William "Willy" Noot and Theodore "Ted" Noot.