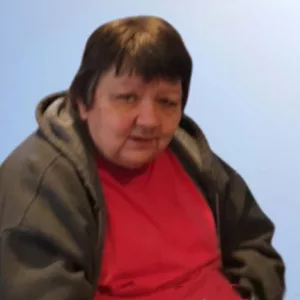 Carol Ann Busche, 81, of Valley City, ND formerly Litchville, ND passed away Saturday, November 18, 2023, at SMP Health – St. Raphael, Valley City. A graveside service will be held 11:00 am, Monday, November 27 at Trinity (Griswold) Lutheran Cemetery, Litchville.
Carol Ann Busche was born September 7, 1942, in Valley City, ND to Harold and Irene (Bickett) Busche. She attended school and grew up in the Litchville (Griswold) community. Carol dealt with her mental health throughout her life, however, she rose above many obstacles and later in life completed her GED which she was very proud to receive.
Carol lived independently in Valley City living at the Rudolph and working at the ARC Thrift Shop. Throughout her years even after she moved to Valley City her love of the families in the Griswold community remained and she would keep up with them as an avid reader of the Litchville Bulletin and Times Record cutting out clippings for her family book. When her vision became impaired, she appreciated her roommate Darlene Fjeldstad reading the newspapers and books to her together discussing the latest happenings. Carol also would listen to her mother's radio, she especially enjoyed listening to football games on KFGO. Highlights for Carol were her weekly visits from her brother Neil after their mother passed away in 2010, especially when he would bring his dog Daisy and French Fries. Another special treat Carol enjoyed was having Pizza Corner pizza and pop with her roommate Darlene.
Carol is survived by her brothers Gerold Busche, Valley City, Glenn (Cheryl) Busche, Salem, OR; a sister Jane Publow, West Des Moines, IA; cousins and several nieces and nephews. Carol is preceded in death by her parents and her brothers Lyle Busche and Neal Busche.
Thank you to all Carol's caregivers and friends at SMP-Health St. Raphael (Sheyenne Care Center) in Valley City where she lived for 14 years. You became Carol's second family.
As we are having a graveside service for Carol her family prefers no flowers. Please direct memorials in her honor to SMP-Health St. Raphael or Roger Maris Cancer Center, Fargo.
Funeral arrangements have been entrusted to the care of Oliver-Nathan Funeral Chapel, Valley City. An online guestbook is available at olivernathanchapel.com