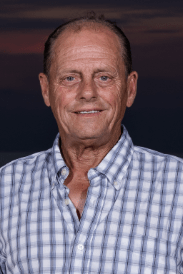 On December 6th 2018, John F. Stearns finished building his legacy surrounded by the love and laughter of his family in the comforts of his home. The pride and joy of his life was his family.
On July 18th, 1949, John was born to Dorlene (Greb), and Lyle Stearns in Valley City, North Dakota. When he was young, his family moved to the Milwaukee, Wisconsin area, where he attended grade school. Eventually, his family moved back to North Dakota near the Stearns family farm in Rogers. He attended school at St. Catherine's, Valley City Public School and North Central School.
In 1966, John met the love of his life Brenda Brendmoen. They married on April 3, 1967 in Preston, Idaho. John and Brenda were blessed with two children, John and Sheila. John and Brenda raised their family in Valley City, North Dakota. He began his career working for Scherr Construction and continued working with them for nearly thirty years.
In the mid 1990's, John began building hotels for Tharaldson Enterprises. He left his mark, as a Construction Manager, on many hotels across the United States. In 2003, John established John Stearns Construction Services and freelanced his first major project for Williston Public Schools. Over the next several years he provided his expertise in constructing upscale hotels in San Antonio, Duluth, Mitchell, and Bismarck for The Koehler Organization.
John developed many friendships throughout the years that lasted his lifetime. This was evident by the constant ringing of his cell phone from friends across the United States. Phone calls made to John for his advice often ended in smart conversations about politics, sports, and family.
As we all know, he was a die-hard Green Bay Packer fan. In the last 30 years, you can count on one hand how many Packer games John missed on T.V. John enjoyed sharing his extensive knowledge and skills with family and friends by helping construct several homes. He had a special way of instilling confidence in people and listening to their opinions, as long as their opinions agreed with his.
John is survived by his wife of 51 years, Brenda, son John (Mary) Stearns, daughter Sheila (Bryan) Kriewald, seven grandchildren, 3 great grandchildren, four step grandchildren, brothers Richard (Kathy), Valley City, Tom (Mavis), West Fargo, and Don of Minneapolis.
He was preceded in death by his parents Dorlene and Lyle, his sisters Mary and Vickie.
Funeral services for John F. Stearns will be held at Faith Lutheran Church in Valley City, ND, on December 10th, 2018, at 11A.M. Visitation will be held at the church on December 9, from 5-7 P.M. With the prayer service starting at 7 P.M. Lerud-Mathias Funeral Home is assisting John's family with arrangements. An online guestbook is available at www.lerudschuldt.com