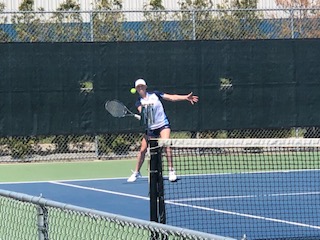 VALLEY CITY, N.D (NewsDakota.co) – VC hosted Wahpeton for an EDC Play-In Match at 1pm on Monday.  Format is 3 singles and 2 doubles where players can only participate in one match.  Winner goes to regionals in Fargo on Thursday as the #8 seed, loser's team season is done.
Results: VC listed first
VC 4
W 1
Singles:
1.  Cali Halgrimson beat Paige Mennis 6-2, 6-3
2.  Maisie Leick lost to Elli Dodge 7-5, 6-2
3.  Olivia Ingstad beat Paula Ramano 6-4, 6-1
Doubles:
1.  Hope Petersen/Breck Sufficool beat Cassie DeVillers/Abby Boelke 6-1, 6-0
2.  Rose Zeltinger/Lexia Nix beat Chloe Rubbish/Liv Dodge 6-3, 6-1
Thoughts:
Today was a TEAM victory.  All of our players were on point today.  Cali let some nerves sneak in, but quickly calmed them and cruised at #1 singles.  Maisie is our #4 and played Wahpeton's #2 tight.  Olivia played against a frustrating opponent, but maintained her wits and demeanor to win the match.
Hope and Breck said they didn't know if they gave 100% effort.  After listening to them, I think they did.  They talked about playing the smart shot, being in the right spot, going for the right angle, being consistent, moving towards the ball.  Just because you weren't hyper on the court, doesn't mean it wasn't a 100% effort.  They found a rhythm and played some excellent doubles.
Rose and Lexia were putting balls away at the net by hitting them at their opponents feet or between them.  When we executed, we won those points.  When we believed, we won those points.  Keep executing and believing!
Next action is team regionals at Fargo starting at 10am at Courts Plus agains the #1 seed in West Fargo Sheyenne.
East Region Play-In Match vs. Wahpetpn