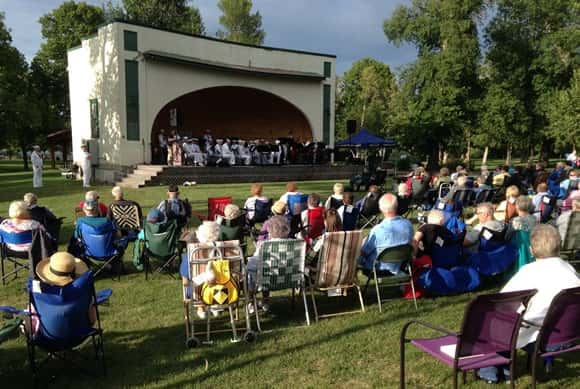 VALLEY CITY, N.D. (NewsDakota.com) – The Valley City Parks & Recreation has announced their summer lineup for Music at the City Park Bandshell Wednesday evenings at 7:15 pm starting June 5th. Musicians are featured each week showcasing their talents for the community and surrounding area.
Spokeswoman Diane Sommerfeld said, "we are very excited to bring our programs to you from the bandshell and in the beautiful City Park again this summer," She added, "We have a great line up of programs with some new and familiar groups.
2019 Schedule
June 5 – Myron Sommerfeld & Music of the Stars
June 12 – Maasjo Sisters
June 19 – FM Golden Notes New Hoizons Band
June 26 – Kroshus & Krew (Midwest Dairy providing ice cream)
July 3 – Hance & Andrus
July 10 – Paul Leier & Karaoke
July 17 – Blind Joe
July 24 – Old Friends
July 31 – Greg Hager (Midwest Dairy providing ice cream)
August 7 – Oakland Family Ice Cream Floats by Bridges Arts Council)
August 14 – DeMasi Brothers
Sommerfeld said there is still some work to complete on the bandshell which is a work in progress. Donations can be made to "Save the Bandshell, PO Box 422, Valley City, ND 58072.