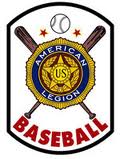 FARGO, N.D. (Newsdakota.com) – Fargo Post 400 scored four runs in the bottom of the sixth to break open a one run game in a 11-6 win over Enderlin Thursday night in Fargo.
Jack Erickson's two run triple in the fifth gave Fargo a 7-6 lead and proved to be the game winning hit.
Brandon Utke had two hits and drove in three runs to lead the Railcats. His two-run single in the third gave Enderlin a 2-0 short lived lead. He would single in another run to make it 4-3 Fargo in the fifth inning when Enderlin regained the lead with four runs to go up 6-4.
In game two, Jade Pulkrabek had two doubles, a triple, scored three times and drove in three runs as the Railcats scored 10 runs in the third inning in a 13-3 route. Garrett Finger had a two-run homer and Colton Sorenson had a two-run single to highlight the inning for the Railcats.