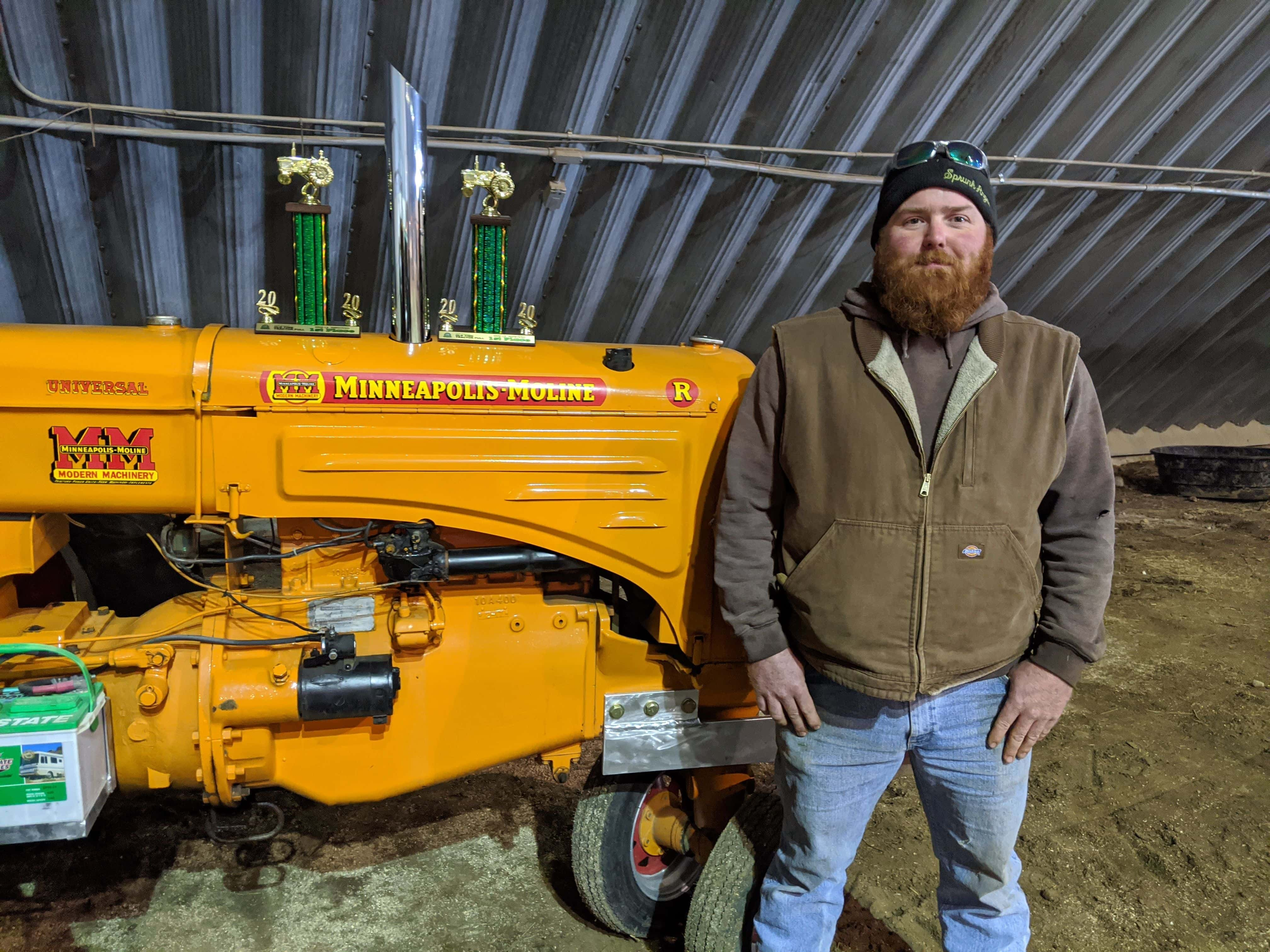 Logan Sprunk poses in front of one his Minneapolis Moline tractors, with the two first place trophies he won at the 2020 N.D. Winter Show in Valley City on March 3. The Chaffee man got involved in tractor pulling through his grandpas, and now his kids are continuing the tradition.
By Ruth Nicolaus
VALLEY CITY, N.D. (NewsDakota.com) – For Logan Sprunk, it all started with his grandpas.
Both his maternal and paternal grandfathers, Verril Sprunk and Don Watt, who has passed away, had old antique tractors that Logan enjoyed.
Verril would take his grandson to tractor shows, and at age ten, Verril and Logan went to a tractor pull in Leonard, N.D.
The boy was hooked.
"I got the bug," he said. Verril helped his grandson begin tractor pulling with some of his old antiques, and "it ballooned from there," Logan remembered.
The Chaffee man was one of the competitors for the Tractor Pull at the North Dakota Winter Show on March 3. He competed in four classes: the 6500 lb. improved, the 5500 lb. improved, the 4000 improved and the 3500 improved, and won the first two classes.
Each of his grandpas was a fan of a different brand of tractor. Don loved Molines (the company morphed into Minneapolis Molines), and Verrill loves John Deeres. The two tractors Sprunk used for the Tractor Pull were both Minneapolis Molines. "I always think of (Don) when I'm here," at a pull. "The other grandpa is feeling a little left out today," he chuckled.
Don was the one who helped Sprunk buy one of his tractors. "My grandpa bought that for me when I was in junior high, out of Washington (State.) We went in on it together." For Sprunk's high school graduation, it was Don's gift to him. "I hadn't got it paid off yet, and he said, that's your graduation gift."
Sprunk pulled with it for a few more years, then tore it apart. It sat for six or seven years while he turned his attention to other things. About five years ago, he reassembled it and began pulling again.
He has the next generation of the family involved in tractor pulling. Sprunk's step-son, Colston Walsvik, has been pulling at local tractor pulls. The thirteen-year-old is one year shy of being able to compete at the NDWS show, but next year he'll be ready, Sprunk said. His daughter, Lizzy Sprunk, who is six, has also done a bit of tractor pulling.
Sprunk acknowledged that tractor pulling is a family affair. His wife, Brandy, is understanding of her husband's hobby, as are their children Ethan Walsvick, who is fifteen, and Eddie Sprunk, sixteen months.
And Sprunk's dad, Dale, helps out too. If Sprunk is having trouble with the mechanics, his dad often helps. "When I have bad days and say I'm done working on it, he'll say, I'll come down and help. I wouldn't be able to do it without the support of my family."
The Sprunk family gets out the old tractors for a tradition. Each fall, they plow a piece of the farm homesteaded in the 1890s. "In the fall, we get together, and we plow with these tractors, just for fun, like my dad and grandpa used to do," he said.
He owns a Moline his great-grandpa purchased brand new, and it is still used on the farm. "It runs an auger and my kids drive around the yard with it," he said. Occasionally he'll use it for a tractor pull for Colston or a neighbor kid.
Sprunk loves tractor pulling, "the simplicity of it. I like turning wrenches. I like it, when, at the end of the day, it runs. There's a sense of pride. You've resurrected it from going to scrap iron, to a running tractor.
"It makes my day when I can get my kids on it and they can drive it."
Ninety-two "hooks" (tractor entries) participated in this year's NDWS. It was sanctioned by the Old Time Tractor Pullers Association.
North Dakota Winter Show activities continue throughout the end of the week with the Senior Dance Day (March 4, 10 am-3 pm); Women's Breakaway Roping (March 4, 6:30 pm); Pony Pull (March 5, 10 am); Horse Pull (March 5, 12 noon); Ranch Rodeo (March 5, 6:30 pm); and PRCA rodeos (March 6, 7 pm and March 7, 2 pm and 7 pm). Tickets can be purchased at the door.
For more information, visit www.NorthDakotaWinterShow.com or call 701.845.1401.
Unofficial results from the Tractor Pull on March 3 follow:
3000 Farm Class
1. Kyle Stromstad, Beltrami, MN – 106.98 ft.
3000 Improved
1. Jeremy Brault, Fisher, MN -109.2 ft.
2. Wayne Larson, Horace, ND – 94.15 ft.
3500 Farm
1. Jeff Peterson, Kathryn, ND – 99.72 ft.
2. Kyle Stromstad, Beltrami, MN – 93.89 ft.
3500 Improved
1. Lynn Schmidt, Bismarck, ND – 121.64 ft.
2. Jeremy Brault, Fisher, MN – 47.51 ft.
4000 Farm
1. John Pfingsten, Walcott, ND- 118.63 ft.
2. Jeff Peterson, Kathryn, ND – 109.73 ft.
4000 Improved
1. Jeremy Brault, Fisher, MN. -129.03 ft.
2. Shawn Heller, West Fargo, ND – 118.17 ft.
4000 Super
1. Wes Hall, Pondsford, MN – 146.76 ft.
2. Duayne Riley, Ottertail, MN – 136.42 ft
4500 Improved
1. Dan Brandenburger, Nassau, MN 106.06 ft.
2. Jeremy Brault, Fisher, MN 99.26 ft.
4500 Super
1. Wes Hall, Pondsford, MN -135.97 ft.
2. Joe Samuelson, Menahga, MN 133.22 ft.
5500 Farm
1. Mike Larson, West Fargo, ND – 91.60 ft.
2. Keith Fimon, Parker's Prairie, MN -85.32 ft.
5500 Improved
1 Logan Sprunk, Chaffee, ND – 127.20 ft.
2. Dan Brandenburger, Nassau, MN- 117.19 ft.
5500 Super
1. Wade Julin, Bemidji, MN – 142.31 ft.
2. Joe Samuelson, Menahga, MN – 140.87 ft.
6500 Farm
1. Dave Sportel, Raymond, MN – 103.51 ft.
2. Ron Mueller, Enderlin, ND – 95.14 ft.
6500 Improved
1. Logan Sprunk, Chaffee, ND – 140.28 ft.
2. Chad Heller, West Fargo, ND- 135.97 ft.
7500 Farm
1. Dalton Drayna, Miltona, MN – 105.28 ft.
2. Jesse Hedges, Aberdeen, SD – 97.36 ft.
7500 Improved
1. Chad Heller, West Fargo, ND – 115.49 ft.
2. Darin Brandenburger, Nassau, MN – 113.65 ft.
8500 Super
1. Darin Brandenburger, Nassua, MN – 164.03 ft.
2. Chad Heller, West Fargo, ND – 137.27 ft