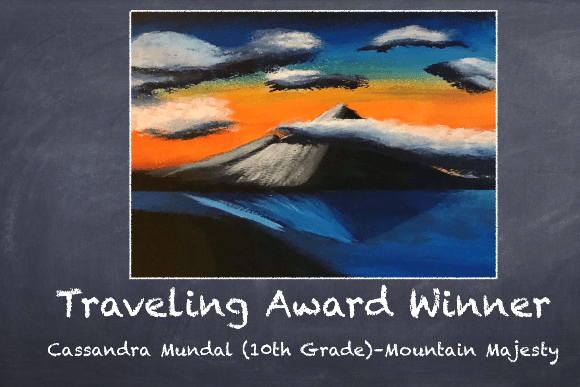 VALLEY CITY, N.D. (NewsDakota.com) – 2020 ND Juried Art Student Art Show (Governor's Show) Valley City Public Schools art students take top awards in the 2020 Governor's Show.
Art Teacher Kelly Callahan said, "I am so proud of our senior high art students. In the senior high division they took every national and state office award possible in the Governor Show, what a great ending to my teaching career. In our school district K-12 art students took 30 state awards, 14 senior high state awards, 7 jr. high state awards and 9 elementary state awards. And one award will be hanging in a corridor at the Capitol in Washington D.C. Unbelievable!
Callahan said what a way to go out for her retirement after teaching these talented students in this school district for 26 years.
Art Teacher Stephani Krueger said that we are so proud of their talent and achievements and that their work speaks for itself. Art in this school district is important and showcases our students talents and passions.
Art Teacher Cheri Anderson said I'm so proud of our students at VCPS who won 30 awards, our most ever at one time, the next best school won 20 awards. The elementary students won 9 awards, three out of four congressional awards and keep in mind there is only one elementary student chosen for each congressional award. They will be hanging in Governor Burgum's office as well as U.S Senator Kevin Cramer's office and Representative Kelly Armstrong's office at the state capitol in Bismark.
Anderson also had a student who won the People Choice Award and five others who won the Traveling Award.
Anderson added, I'm so fortunate to have been able to work with an amazing team of art instruction. And thankful that Valley City Public School District supports the visual arts program.
*Overall VCPS art students K–12 took 30 State Awards
*VCPS art students k-12 took all the Congressional Art Awards
Senior High Division (Kelly Callahan)
VCHS high school students took 5 out of the 7 Washington DC and state office awards
*Congressional Art Award – (Washington DC Corridor)
Sydney Nelson – Yellow Meadows
(Only 1 high school student in the state wins this award)
*Congressional Art Award – (ND Office Rep. Kelly Armstrong)
Aurora Ziniel – Ne Ne
Governor's Award – (ND Office Doug Burgum)
Katy Meester – A single Tear
Northern Visions – (ND Office Senator John Hoeven)
Jared Eggermont – Morgan
State of the Arts Award – (ND Office Senator Kevin Cramer)
Sydney Nelson – Welding in the Fall
Spotlight Award – (Digital Media)
Jackson Howard – Aesthetic Pineapple
(Only 2 students in the state wins this award)
People's Choice Awards
Sydney Nelson – Pink Explosion
Emilee Olson Gronneberg – Shopping in the Wilderness
Traveling Show Awards (Governor Doug Burgum)
Cali Haligrimson – The Wave
Nadia Mueller – Afternoon Coffee Shop
Lexi Triebold– Glazed Donut
Cassandra Mundal – Mountain Majesty
Nadia Mueller – Donut Come to Life
Lexi Triebold – Self Portrait
Junior High Division (Stephani Krueger)
VCHS junior high students took 1 out of the 4 state office awards
*Congressional Art Award – (ND Office Rep. Kelly Armstrong)
Hadley Thoreson – True Colors
People's Choice Awards
Damien Modlin – America
Saphira Beston – Donut
Traveling Show Awards (Governor Doug Burgum)
Shaunn Weiser – Moove Over
Damien Modlin – America
Jovi Borg– Lizard
Bentley Thornton – Value Vase
Elementary Division (Cheri Anderson)
VCPS elementary students took 3 out of the 4 state office awards
*Congressional Art Award – (ND Office Rep. Kelly Armstrong)
Ashlynn Hartsell – Sunset Wheat Field
Governor's Award – (ND Office Doug Burgum)
Olivia Lassiter – Cool/Warm Color
State of the Arts Award – (ND Office Senator Kevin Cramer)
Ashlynn Hartsell – Heart Sunset
People's Choice Awards
Aidan Langemo – Eagle by a River at Night
Traveling Show Awards (Governor Doug Burgum)
Claire Shanenko– Madison Blind Contour
Rylee Kiser – Shoe
Rylyn Johnson– Pop Heart
Jace Larson – Poinsetta
Addison Fetsch – Wheat Field

VCPS Juried Art Show Student Awards