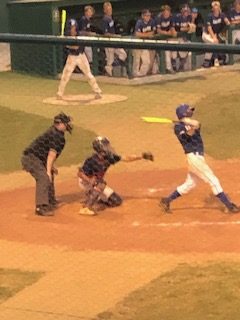 JAMESTOWN, N.D. (NewsDakota.com) – Jamestown scored seven runs in the sixth inning and Mason Lunzman pitched shutout relief as the Eagles downed the Bismarck Representatives 11-3 to win the championship of the West Region Sr. Babe Ruth Baseball Tournament at Jack Brown Stadium.
The Eagles got on the board first in the the bottom of the first inning when Tommy Falk drilled the first pitch he saw from Carson Matschabacher over the ivy in right field for a three run home run, it was Falk's third home run of the season.
The score stayed that way until the top of the fourth inning when Bismarck scored three runs. Jackson Klipfel drove in two with a single and Carson Matschabacher drove in one with a sacrifice bunt.
Jamestown would take the lead back in the bottom of the fifth on Mac Anderson's rbi single.
The bottom of the sixth started with Jacoby Nold striking out, but when the ball got by catch Mile Stiefel, Nold reached on the wild pitch. Mason Lunzman singled moving courtesy runner Jakob Schempp to second. Nolan Nenow tried to bunt the runners over, but third baseman Noah Reidinger threw the ball into left field when they were trying to get Schempp at third. Schempp came in to score to make it 5-3.  After a strikeout and a line out, the next five batters reached. Connor Hoyt had an rbi single. Max Anderson drew a bases loaded walk. Chris Erickson brought in two with a single and Nold drove in two with a double to make it 11-3.
Mason Lunzman got the win in relief. The lefthander pitched four shutout innings, allowing three hits with two walks and three strikeouts.
With the win, the Eagles improve to 24-5 and will face Valley City in the final game of the opening day of the State Class A Senior Babe Ruth Baseball tournament Tuesday night at 7:30. The two teams played back on July 7th with Jamestown winning that one 6-2.
You can hear all the Jamestown Eagles games at the State Tournament on Jamestown 107.1FM and all of the state tournament games will be video streamed live at newsdakota.com