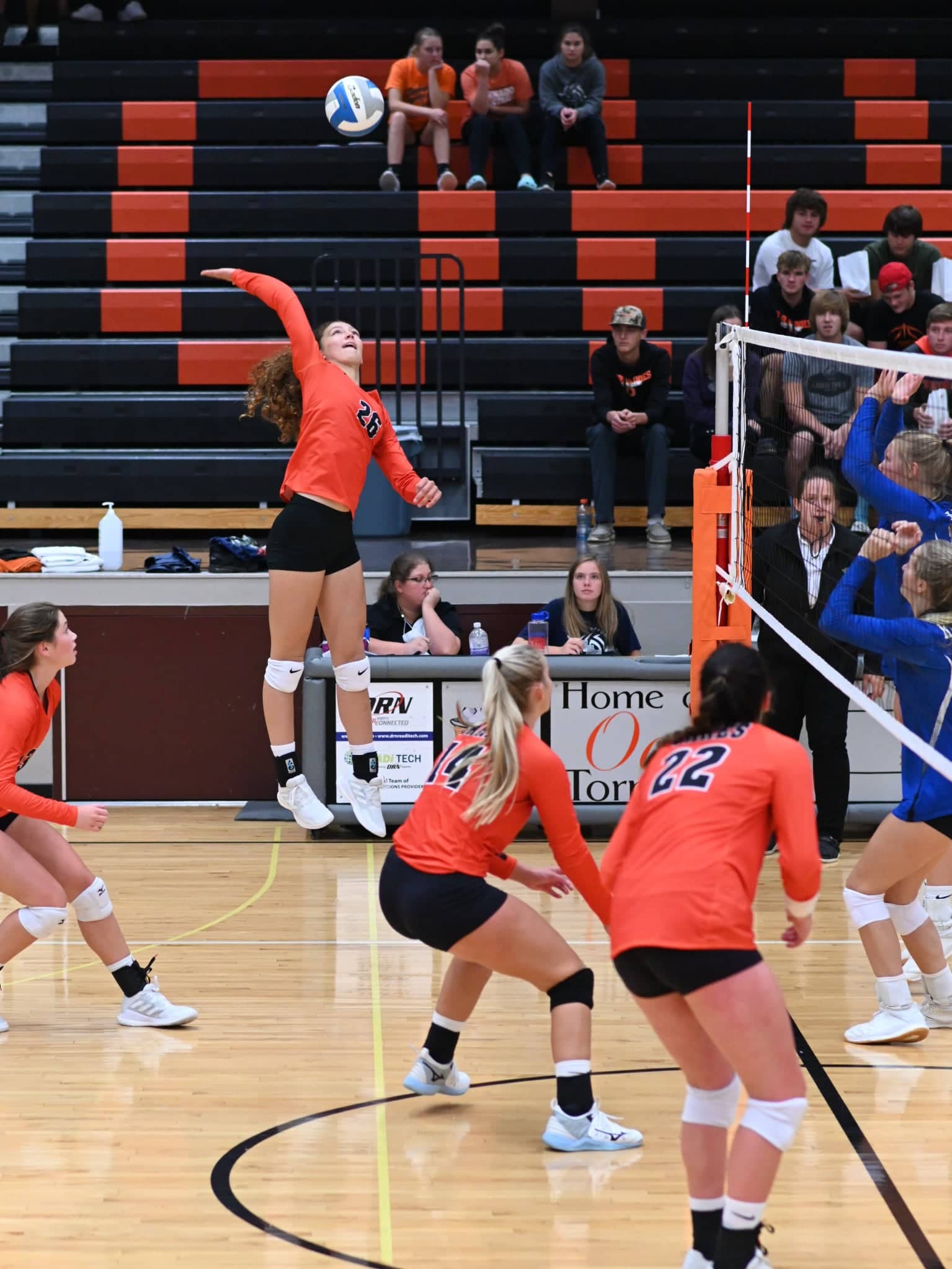 OAKES, N.D. (NewsDakota.com) – The third ranked Oakes Tornadoes extended their winning streak to 10 in a row with a 3-0 (25-9, 25-13, 25-10) win over Barnes County North Thursday night at home.
In the first set, Oakes jumped out to a 7-0 lead to start the set and never looked back taking it 25-9. Five of the 25 points came on service aces from Sadie Hansen. Four came in the opening set of serves for the senior and one came a little later on.
Set two was back and forth with neither team getting more than a two point lead midway through the set. Then with Barnes County leading 13-11, the Tornadoes would score 14 straight points to take the set 25-13.
In the third set, the Bison had a 2-1 lead, then with Grace Day serving, Oakes would score seven in a row to take an 8-2 lead. The Bison would get no closer as the Tornadoes cruised to a 25-10 win to take the match.
Abby Cox and Emma Muggli led the way for Oakes with seven kills each. Cox would add 10 assists and two aces. Hansen, along with her five aces, had 13 assists, four kills and seven digs. Grace Day led the defense with 11 digs and had two aces. Laikyn Roney helped the defense with four digs and a team high three blocks. Aspen Hill had six digs and Chloe Schaefer had two blocks.
Hanna Wieland and Ashley McFadgen led BCN with two kills each and Wieland had three assists.
Oakes is now 10-0 on the year, 4-0 in District 5. Barnes County North falls to 4-4 overall and 2-2 in the District.
Oakes will travel to Midkota to face Griggs County/Midkota on Tuesday at 7pm. That match can be heard on 1220 AM/95.9 FM KDDR The Tornado and newsdakota.com.