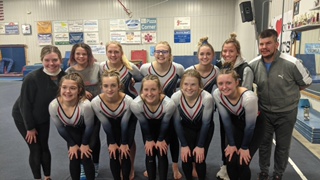 VALLEY CITY, N.D. (NewsDakota.com) – Valley City hosted all Eastern Dakota Conference teams Friday night for the Valley City Invite at the Youth Sports Complex. Not only did the Hi-Liners win the meet, but they had the highest score in the state thus far this season.
The third ranked Hi-Liners swept the top five spots in the All-Around and scored a 145.975. That score surpassed Dickinson's 144.85 from a meet last Saturday in Bismarck.
Jocey Kriewald took first in the vault with a 9.350 and first in the bars with a 9.425.  Abby Thornton was first on the floor with a personal record of 9.650
Karina Olson took first in the beam with a 9.325. Olson was first in the All-Around with a 36.850 followed by Kriewald's 36.825. Abby Thornton was third with a 36.025. Olivia Olson was fourth with a 35.650 and Grace Undem was fifth with a 34.875.