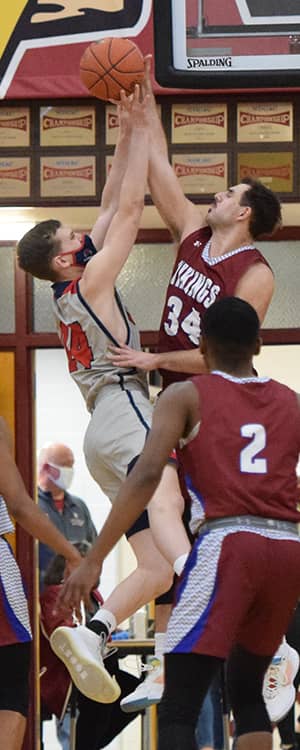 VALLEY CITY, N.D. (NewsDakota.com) – Viterbo's Robert Cunitz made two free throws with 6.2 seconds remaining Saturday, clinching an 88-84 win over Valley City State in NSAA men's basketball.
The Vikings cut a late 11-point deficit to just two points in the final minute, but Cunitz's two free throws put the game away.
Valley City State drops to 11-3 overall and 3-2 in the North Star Athletic Association. Viterbo University improves to 5-5 overall and 2-3 in conference play.
A disciplined Viterbo team took care of the ball against VCSU's pressure defense, which had been forcing just over 20 turnovers per game this season. The V-Hawks turned it over just 13 times on Saturday, including only three turnovers in the first half.
A back-and-forth first half featured three ties and 10 lead changes. The Vikings held a slim 46-44 lead at the break, thanks in part to a 10-for-15 first half from 3-point range.
With the game tied 59-59 at the 14:10 mark of the second half, Viterbo started its game-changing run. The V-Hawks went on an 18-4 run over the next five minutes of play, opening up a 77-63 lead on two free throws from Spencer Speltz with 9:20 remaining.
The teams traded buckets before VCSU started its comeback, trailing 84-73 with 2:50 to go. Joshua Kelly made back-to-back driving layups to jumpstart the run, and Connor Entzi followed with a 3-pointer that made it 84-80 with 1:37 to play. Viterbo's Noah Fredrickson pushed the lead back to 86-80 with a shot inside.
VCSU's final-minute effort trimmed the deficit to just two points as Chris Thompson made two free throws and Kevin Schramm scored inside to make it 86-84. VCSU nearly forced a turnover but then had to foul, and Cunitz sank the two free throws to clinch the game.
Four Vikings scored in double figures, led by 15 points and nine rebounds from Kevin Schramm. Entzi and Jalen Addison each scored 13 points, and Thompson added 11.
Fredrickson made six 3's for Viterbo as he finished with a game-high 24 points. Cunitz added 22 points and Jack Monis chipped in 19.
The Vikings shot 51 percent overall (30-59), 54 percent on 3's (14-26) and 67 percent at the line (10-15). Viterbo finished at 57 percent overall (31-54), 50 percent on 3's (11-22) and 83 percent on free throws (15-18).
Up next: Valley City State travels to Mayville State on Jan. 22 and Presentation College on Jan. 23. Viterbo hosts Bellevue on Jan. 22.
Photo Courtesy VCSU Athletics