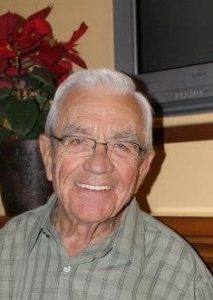 Lloyd Carroll Miller passed away on February 20, 2021 in Valley City, ND.  Lloyd was born in Hankinson, ND on September 20, 1932, the son of Arthur and Florence (Coppen) Miller.  He grew up in Wahpeton, ND where he graduated from high school.  After high school, he attended radio school in Minneapolis and became a broadcaster at KFGO.  In 1951, he joined the Navy and served as a communications specialist on the Bahrain Island in the Persian Gulf.
Lloyd married Kathleen Anne Moe at the Emmanuel Lutheran Church in Abercrombie, ND. Lloyd and Kathy lived in Fargo for nine years and moved to Valley City in 1966, where they raised their three children, Scott, Susan and Diane. He moved to Valley City to serve as the plant manager at Northwestern Bell and later became a network technician.  He retired after 39 years.  He also served as an EMT for the Barnes County Ambulance from 1983 – 1987.
As an active member of Epworth United Methodist Church, he served on many boards and his faith and church family were a major influence of his life and the lives of others.  Lloyd served on the Valley City School Board and the VoTech Center from 1983 to 1995.
He was designated "Hi Liner Fan of the Year" in 1996 and enjoyed attending football and basketball games, gymnastic meets and wrestling matches throughout his life.  Lloyd was an avid bowler, participating in a bowling league; and as a golfer, he hit a "hole in one" at the Valley City golf course. One of Lloyd's favorite annual activities, was as the Official Starter of the Soap Box Derby for 25 years.
He is survived by his wife Kathleen, his three children, Scott Miller, Susan (Jeff) Jordan, and Diane Kruse, his seven grandchildren and their spouses, and his five great-grandchildren. Lloyd was preceded in death by his parents and sister, Phylane Breuer of Wasilla, Alaska and his daughter-in-law, Debra Miller.
A memorial celebration of his life will be held at 10:30 AM, Wednesday, February 24, 2021 at Epworth United Methodist Church, Valley City.  With the ongoing concern of COVID 19, the family is asking that attendees please wear a mask and socially distance as much as you're able.  The service will be live streamed and available to view along with Lloyd's obituary and online guestbook at www.lerudschuldt.com
Lerud Mathias Funeral Home is assisting Lloyd's family with arrangements.