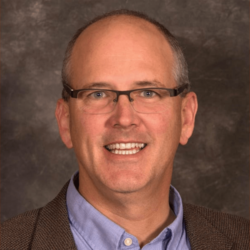 (NAFB) – The National FFA Organization and the National FFA Foundation have new leadership after picking Scott Stump as the new CEO of both organizations.
Stump lives on a small ranch in Colorado with his wife, Denise, and their three children. He has a background in agricultural education, career and technical education, and the FFA. He received his bachelor's degree in Agricultural Education from Purdue University.
"it's with great anticipation that I return to National FFA in this leadership role," Stump says. "I know from personal experience as a student and as a parent the positive difference FFA makes in the lives of students across this nation."
Stump also says he looks forward to working with FFA's talented national staff, committed board members, state and local leaders, and supporters to advance and expand the organizations' collective impact. Ronnie Simmons, Chair of the National FFA Foundation Board of Trustees, says they're excited to welcome Scott Stump to their team.
"Scott brings decades of experience to the table, having been a part of FFA and agricultural education at nearly every level, including as a student member, classroom teacher, state staff, and national staff," Simmons says.
Stump replaces Mark Poeschl, who resigned in January after leading the organization for five years.