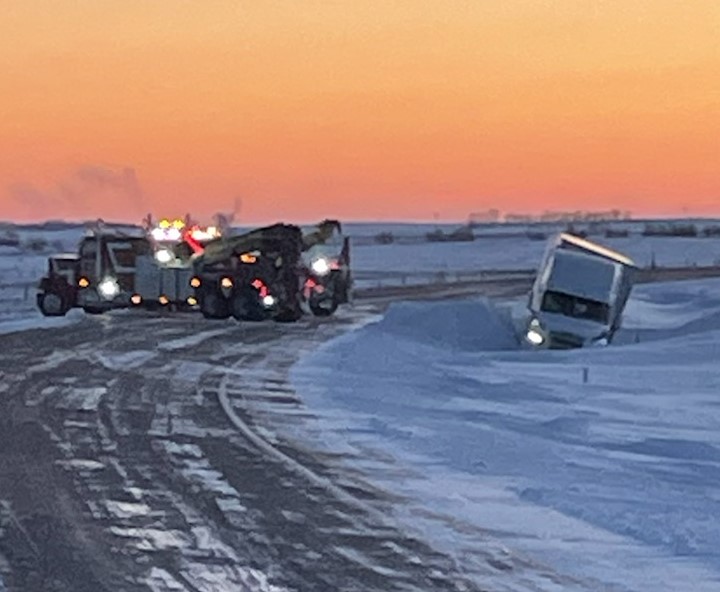 FINGAL, N.D. (NewsDakota.com) – A stranded semi driver stayed in his tractor cab for nearly three days after he lost control of his semi on Sunday and ended up in a ditch near mile marker 65 along North Dakota Highway 32 near Fingal, N.D. about 9:30m December 26th.
The Barnes County Sheriff's office said the driver chose to stay in his cab until his vehicle could be towed out of the ditch on Tuesday, December 28th despite a couple of offers to be taken out of his vehicle. He suffered no injuries in the incident.
Chief Deputy Pat Sand said Barnes County Deputies made contact with the individual and he wanted to remain with his vehicle. The driver called back on Monday morning and stated he needed fuel. The Barnes County Dispatcher sent a tow service with fuel to his location. The tow company made contact with him and the individual once again wanted to remain with his vehicle.
On Tuesday, December 28th at 9 o'clock in the morning he called the Barnes County Dispatch Center and a Highway Patrol unit checked on him and he still wanted to remain with his vehicle. Later in the day the semi and trailer were pulled out of the ditch by a towing company.
Sand said the truck driver was hard to understand due to a language barrier but his company also called our dispatch center and visited with them to make sure the driver was safe during this incident.
Photo submitted to NewsDakota.com