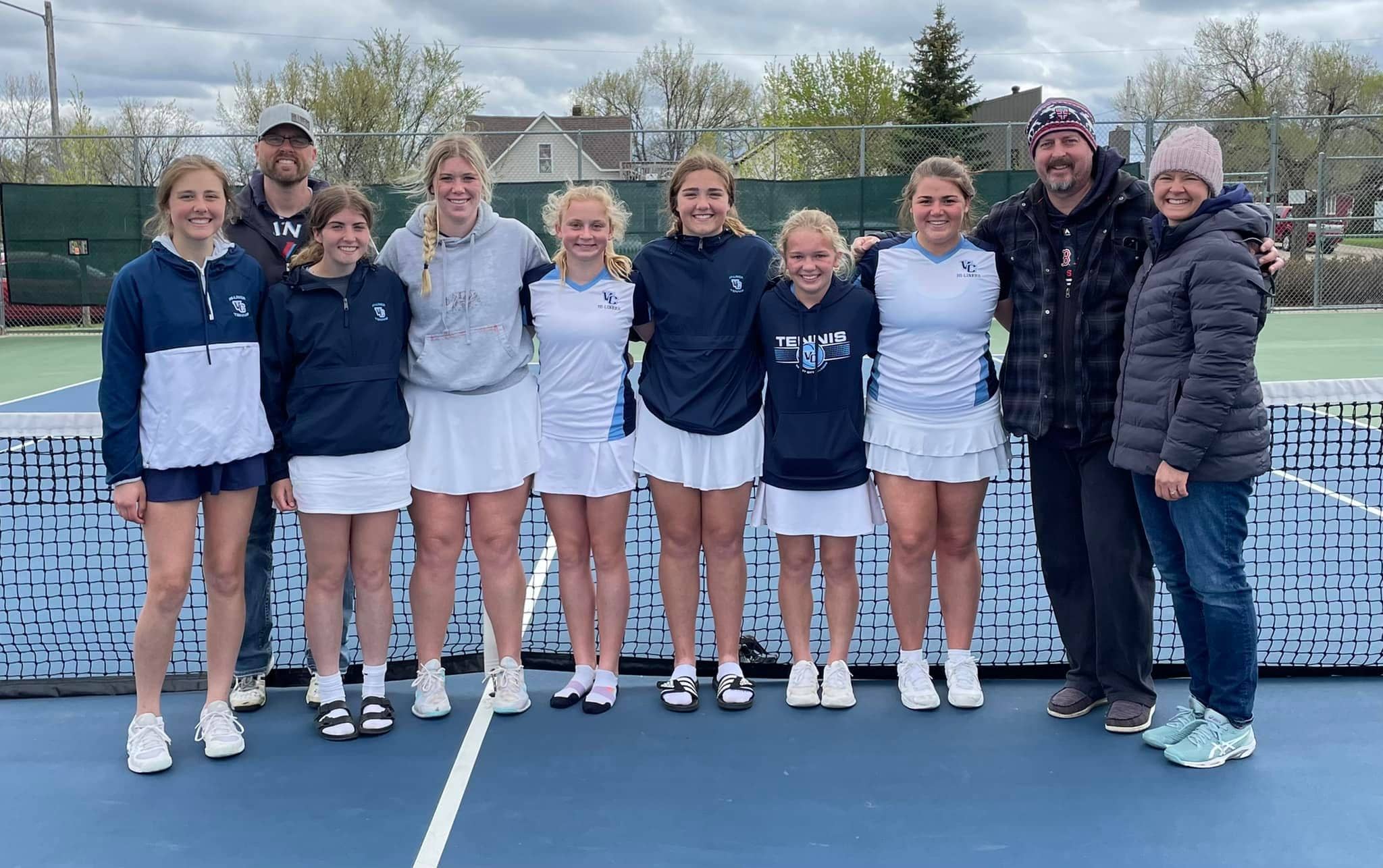 VALLEY CITY, N.D. (NewsDakota.com) – The Hi-Liner girls tennis team had a busy end of the regular season on Friday and Saturday with two home EDC matches. Valley City is always listed first in the results.
Friday, May 20th EDC Match
VC 3
Sheyenne 6
Singles:
Breck Sufficool lost to Mimi Gu 6-0, 6-1
Olivia Ingstad lost to Alyssa Sommerfeld 6-2, 6-2
Abby Martineck defeated Hailey Beeter 6-4, 6-2
Kailee Nielson lost to Sarea Gu 7-5, 6-4
Abby Redfearn lost to Jayne Thompson 7-5, 2-0 ret.
Georgia Zaun defeated Abby Timmerman 6-2, 6-2
Doubles:
Sufficool/Ingstad lost to M.Gu/Sommerfeld 6-0, 6-2
Martineck/Redfearn defeated Beeter/S.Gu 3-6, 6-0, 6-4
Nielson/Zaun lost to Thompson/Timmerman 6-4, 6-4
Saturday, May 21st EDC Match
VC 6
Fargo North 3
Singles:
Sufficool lost to Erika Spanjer 6-4, 6-4
Ingstad defeated Lainy Latunski 6-2, 6-1
Martineck defeated Ellen Erickson 6-0, 6-0
Nielson defeated Julia Puhl 6-1, 6-4
Zaun defeated Lizzie Hardie 6-3, 6-2
Ella Olson lost to Kellon Taragos 6-2, 6-0
Doubles:
Sufficool/Ingstad lost to Spanjer/Latunski 0-6, 6-4, 6-2
Martineck/Redfearn defeated Erickson/Puhl 6-3, 6-3
Nielson/Zaun defeated Hardie/Tarago 6-2, 7-5
Coach Matt Neilson's thoughts after the matches. "On Friday against maybe the 3rd best team in the state in Sheyenne, we held our own. We lost 6-3 but we had our chances at 4 singles, 5 singles, and 3 doubles. They were better than us on this day, but this showed us that we are capable.
With the loss, we dropped out of contention for a #2 seed for the EDC tournament. It then came down to Saturday's EDC finale; a win and we are the #4 seed and a loss to North would drop us all the way to #6."
The girls tennis team will return to game action on Thursday when they will travel to Grand Forks for the region tournament.