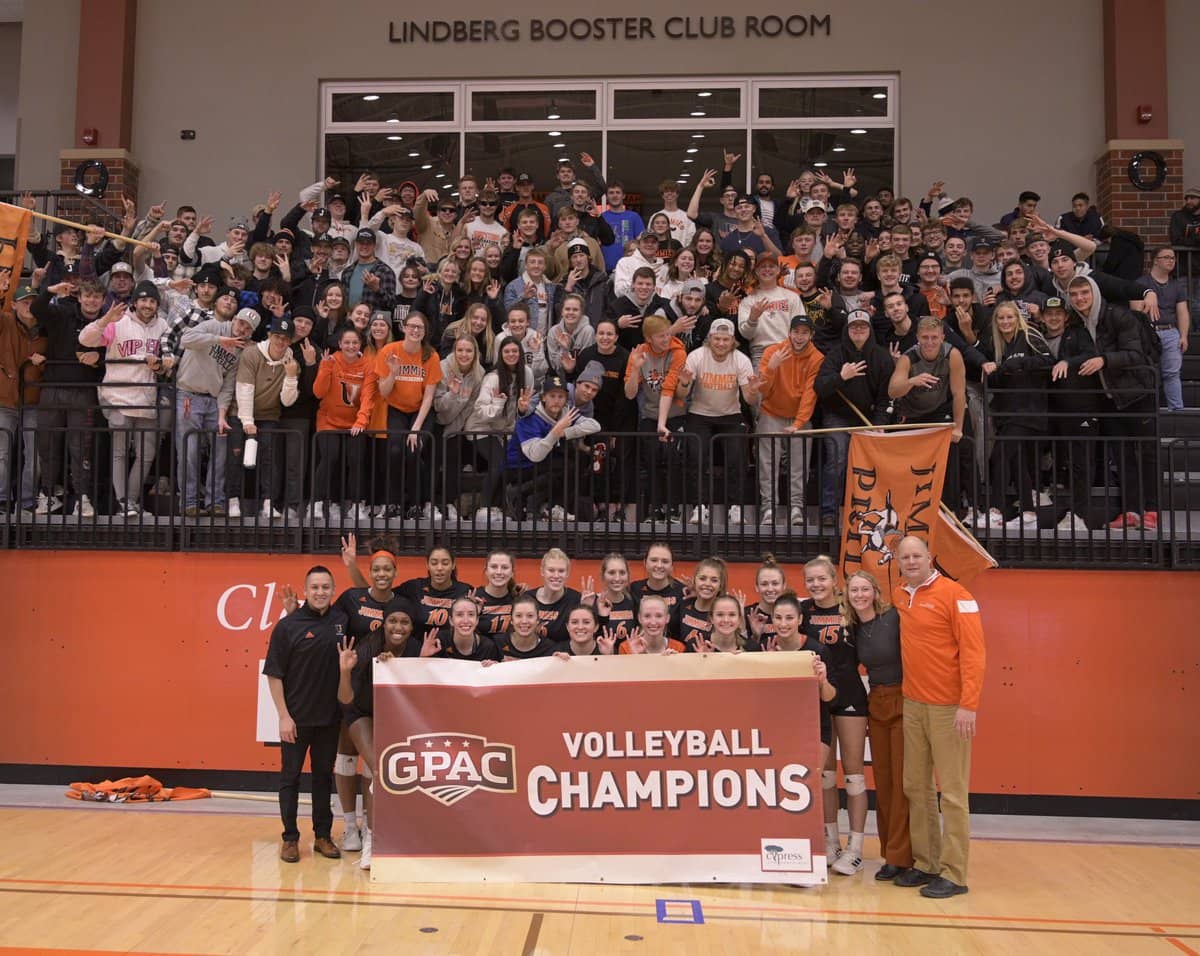 Photo from Jimmie Athletics
JAMESTOWN, ND. (NewsDakota.com) – Jon Hegerle begins his 14th season at the helm of the University of Jamestown women's volleyball this season as the Jimmies look to continue their great success in 2022.
Hegerle, who has compiled more than 300 wins as head coach, knows this year's team will have a different feel, but he says this group is starving to compete.
Hegerle also talked about how it's been a struggle to keep this youthful group off the court during the summer. Along with this younger group comes the experience of returners Anna Holen and Kalli Hegerle, both coming back for one more season.
K. Hegerle will see a different role this season as the Jimmies try to fill the void left by graduating setters Jackie Meiklejohn and Megan Gaffaney, as well as middle blockers Corina Huff and Jayla Ritter.
That chemistry on and off the court is something that Jamestown will have to try and figure out quickly as the Jimmies open up the year with four consecutive tournaments. Coach Hegerle said getting away can help build that chemistry as well as team confidence.
Jamestown opens the season in Butte, Montana with four matches in two days with the first match of the year against Eastern Oregon. The Jimmies will play 12 matches before coming home to Newman Arena for the first home match of the season on September 6th against Northwestern.
FULL COACH JON HEGERLE INTERVIEW:
Tomorrow on our Jamestown 107.1 Fall Sports Preview, UJ football's defensive coordinator Shane Clancy and fifth-year senior Vincent Corral preview the Jimmie defense in 2022.
Fall Sports Preview schedule for the rest of this week.
WEDNESDAY – UJ FOOTBALL'S SHANE CLANCY AND VINCENT CORRAL
THURSDAY – UJ FOOTBALL'S JASON CHALLEEN PLUS CADE TORGERSON AND JAVON BOWIE-MONTEIRO
FRIDAY – UJ FOOTBALL HEAD COACH BRIAN MISTRO
The Fall Sports Preview will be live on Jamestown 107.1 and online at newsdakota.com at 9:00 AM each day.