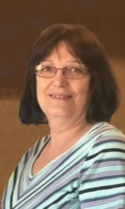 The memorial service for Debra Marie Earles, 63, Valley City will be 10:30 am Friday, September 23, 2022 at the Oliver-Nathan Funeral Chapel, Valley City. Inurnment will be in Memory Gardens, Valley City. She died Saturday, September 17, at CHI Mercy Health, Valley City.
Debra Marie Carpenter was born April 9, 1959 in Valley City, ND, the daughter of Douglas and Jeanette (Henke) Carpenter. She attended and graduated from Valley City High School in 1977. Debra was united in marriage to Randall Earles on August 6, 1982 in Valley City. She worked as various restaurants in Valley City including Roby's where she later became the bookkeeper. Debbie then began working at the Valley City Post Office for several years and also did bookkeeping at the Valley City Town and Country Club. She was the administrative assistant at Barnes County North School, Wimbledon at the time of her passing.
Debbie was a caregiver of her mother, Jeanette Larson, for many years.
She is survived by her husband, Randy; her two sons Zachary Earles and Benjamin Earles both of Fargo; her mother, Jeanette; her bother Kevin (Dallas) Carpenter, Gillette, Wyoming; and several nieces and nephews.
Debbie was preceded in death by her brothers Kelly Carpenter and Jeffrey Carpenter.
Arrangements have been entrusted to the care of the Oliver-Nathan Funeral Chapel. An online guestbook is available at www.olivernathanchapel.com